Jocelyn Lardy presents its last volcanic canvas, which he entitled "In the Devil's Cauldron."

Jocelyn practice osteopathy, and painting, in south-eastern France.

He develops in his works diverse topics as sports, especially motorsports, nature, or aviation.

Another of his passions, the volcanoes ... He is fascinated since his childhood by Haroun Tazieff movies and documentaries of Maurice and Katia Krafft, french volcanologists. With "Aventure & Volcans", he could realize his dreams by browsing the Spring of Etna, Stromboli and Vulcano, and plans to see other active volcanoes.

It has started its first performances on a new theme : "The Great volcanologists."

In "The anger of a gray", an oil on canvas, he paid tribute to Katia Krafft during the eruption of Mount St. Helens in 1980.

"In the Devil's Cauldron", it depicts the couple of volcanologists at Kilauea in 1984.
At that time, a fissure eruption in Kilauea's east rift zone, that began in January 1983, has built a cinder and spatter cone, the Pu'u O'o. This period is characterized by spectacular lava fountains, which fed large lava flows.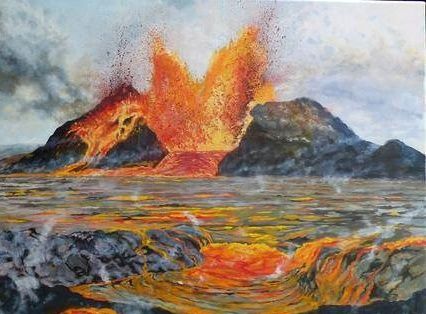 " In the Devil's Cauldron" - detail ( over the Pu'u O'o cone) - oil on canvas (120cmx90cm) by Jocelyn Lardy - © photo Jocelyn Lardy
As he says: " The volcanic pictures are so beautiful today, I try to approach the subject a little differently."

His work takes time ... it works "in the manner of old", in successive layers with glaze.

He explains: " painting, it's like osteopathy, because you have to keep an overview at all times, and every detail is important because it can disrupt the overall balance. For the painter also, movement and rhythm changes of the brush running on the canvas are like the hands of the osteopath following the movement of the body tissues, and sometimes language is joined ... osteopathy is gradually entering tissue layers and paint layers is gradually added over each other. "

Thanks to Jocelyn Lardy for sharing with us his volcanic emotions.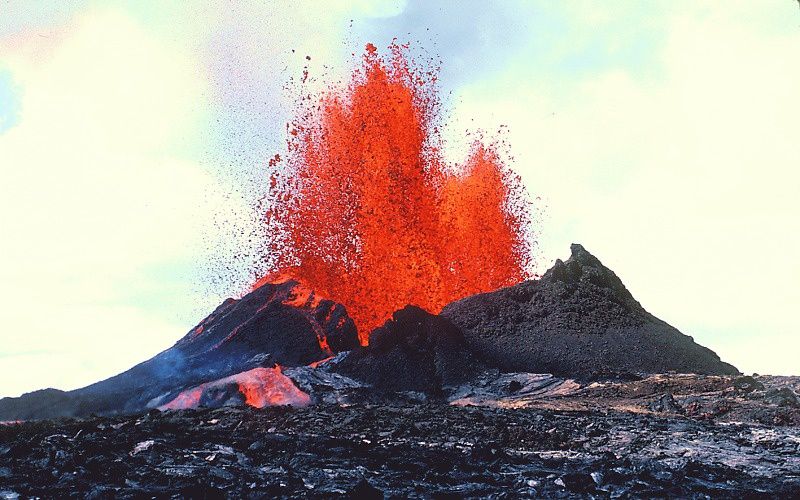 Sources :
- Galeries de Jocelyn Lardy sur son site : http://sjlardy.free.fr/
- "Le feu de la Terre" - par Katia et Maurice Krafft - aux Ed. de La Martinière- récit d'André Demaison, dit M'Toto : L'éruption du Pu'u O'o (page 119-121)
- Hawaiian Volcano Observatory / USGS - Kīlauea's East Rift Zone (Puʻu ʻŌʻō) Eruption
1983 to present - link