In his series of paintings on the Great volcanologists after the evocation of Katia and Maurice Krafft, respectively, in " The anger of a gray " and " In the cauldron of the devil ", Jocelyn Lardy proposes in preview his latest work :

" Lava Hunter in Kamchatka "


In our correspondence, Jocelyn kindly offered me to make you live the different stages of its creation ...

As he explained ... " The longest and most important step is invisible, which is to create the painting " in his head ". Some paintings ripen for years. I had seen a magnificent lava flow's photo of Tolbachik. Another snapshot of the Avachinski and Koriaksky and then returned to my mind as I was reading the book of Guy de St Cyr and one of his chapter in Kamchatka, and this was the trigger that I decided to combine these different views with the lava hunter who admire the show on a wall also imagination. Yet we are in Kamchatka, and this lava hunter looks can be Guy St Cyr ... "

Drawing is the first step, which involved the realization of thought, and the basic principles in painting, such as skyline, vanishing point ... to arrive at an overall aesthetic balance.

Then the "Acrylic" stage: a medium that dries quickly and allows a study of color harmony, with easier corrections. Then the painting is covered with diluted varnish ... then resume this time with oil.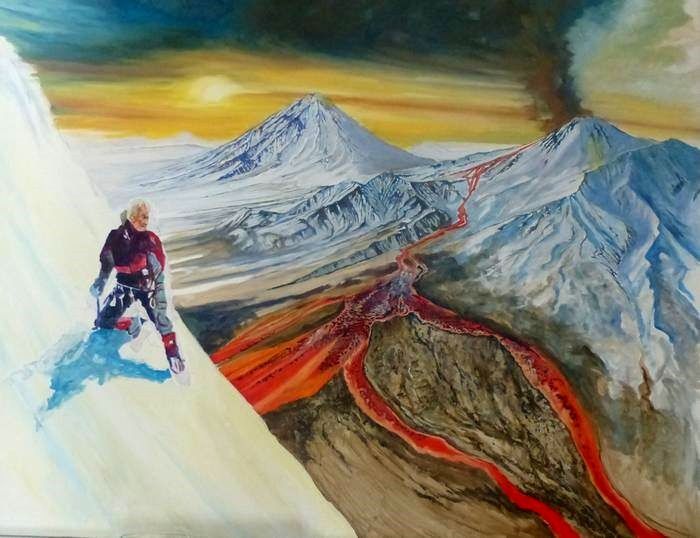 "Lava Hunter in Kamchatka" - the shadow of the lava hunter and projections at the top of the volcano still not accomplished (compare this photo to the finished painting below)
Jocelyn then restarts the whole picture " by adding layers of increasingly fat paintings layers, ie the paint is increasingly mixed with linseed oil for example, which allows for glazes - thin layers stretched on some parts of the canvas - but requires longer drying times ... ", and to reach this magical effect.

A perfectionist at heart, he is left to refine some details, such as Boileau commented in "Poetic Art" :
Hâtez-vous lentement, et sans perdre courage,
Vingt fois sur le métier remettez votre ouvrage,
Polissez-le sans cesse, et le repolissez,
Ajoutez quelquefois, et souvent effacez.
Jocelyn Lardy is going to make reproductions on paper art or canvas ... you will find all the information on its website: http://sjlardy.free.fr/

Many thanks to Jocelyn Lardy for his confidence and document sharing, and all the happiness he gives us to admire this volcanic canvas.