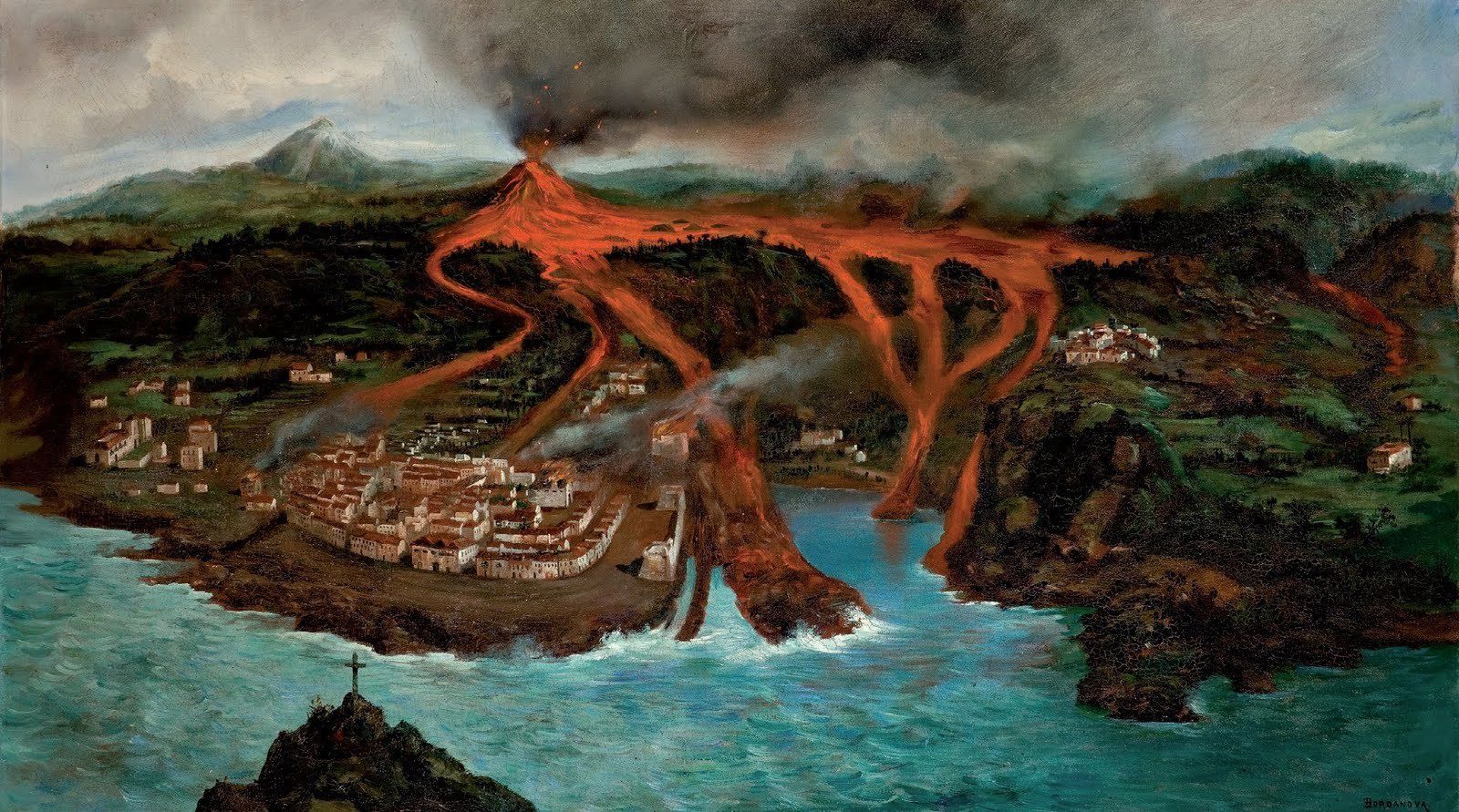 The eruption of Garachico volcano (1706) - painting by Bordanova Ubaldo Moreno (1898) / La pintura pertenece a la colección particular de D. Luis Lopez de Ayala y Aznar, XI Marques de Villafuerte. - A click to enlarge.
The eruption of Garachico volcano in 1706 on the island of Tenerife by the artist from Madrid, Ubaldo Bordanova Moreno, is actually a copy and a free interpretation, conducted in 1898, of an earlier painting of an unidentified artist.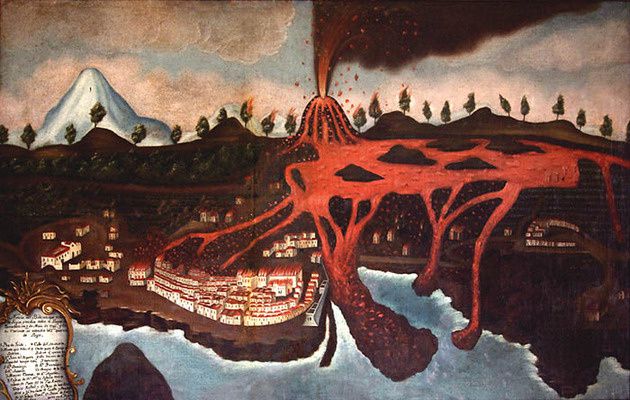 The eruption of volcano Garachico (1706) - author unidentified - the work is earlier than Ubaldo Bordonova.
Ubaldo Bordanova (1866 - 1909) is a key figure of the Canarian art scene in the last third of the 19th century. Formed in Madrid and Paris, he moved in 1889 in the Canary Islands, where he worked as a painter and decorator, portraitist, landscape painter and engraver on Gran Canaria and Tenerife. In 1895, he moved to La Palma and marries it with a great bourgeois. As a trendy artist , it is highly solicited, and is renowned for its articles of opinion and his lithography. His bohemian life will finish prematurely because of his alcoholism.

in several successive stages.
The town of Garachico and its port were founded in 1496, just after the conquest of Tenerife, by the Genoese banker Christobal del Ponte. Garachico became the most important port of the island to the 16 ° and 17 ° centuries.

Its heyday ended with the eruption of a secondary crater of Teide, according to some sources the Montaña Negra volcano, according to others the Montaña Trebejo volcano, or Garachico volcano.

In May 1706, after several earthquakes, an eruptive fissure opens in the hills above the city ... in less than 15 hours, the village of El Tanque and part of the town of Garachico and its port, set in a beautiful natural cove, were buried under lava. A week later, another lava flow covered the village of San Juan del Reparo and what remained of Garachico. The eruption lasted a total of forty days between May 5 and June 13. Several eruptive vents are responsible of seven major lava flows in direction of Garachico area in successive stages.

Traders have settled in Puerto de la Cruz, after the catastrophe ... only a fort guarding the entrance to the old port, the Castillo de San Miguel, persists. At its foot, several natural pools formed by lava flows, have become a popular attraction. They are filled with the tides of very clear water, and after development by man, is a bathing place sheltered from the swell of the ocean.
Sources :
- article de Involcan
- Reconstruction of the 1706 Montaña Negra eruption. Emergency procedures for Garachico and El Tanque, Tenerife, Canary Islands – by M.C.Solana & A.Aparicio
- Global Volcanism Program - Tenerife - eruptive history