The Research Institute of Geology and Paleobiology of the National University of Rio Negro / UNRN completed its first petrographic analysis of ash from the eruption of Calbuco. Four samples were taken and analyzed by UNRN.

The ash is light brown to light gray; it has grain size below 250 microns, consisting of glassy and crystalline flakes apart. There are more pollen grains of uncertain origin.

Glassy shards, the main component of the grains are of two types: shredded or porous as pumice. The jagged glass shards are angular and compact, with a smaller proportion in the form of stars or with walls having bubbles. Porous shards are rarer than the previous ones, and vesicular with abundant inclusions of micro-phenocrysts.

The crystals are angular and predominantly of plagioclase and hornblende, with a smaller proportion of quartz and biotite. Accessory minerals are present: apatite and zircon. On the basis of mineralogy, and depending on the classification QAPF, ash can be described as andésito-dacitic. Of the chemical viewpoint, the ash is acid and average silica content.

These results should be supplemented by more detailed analyzes in the coming days.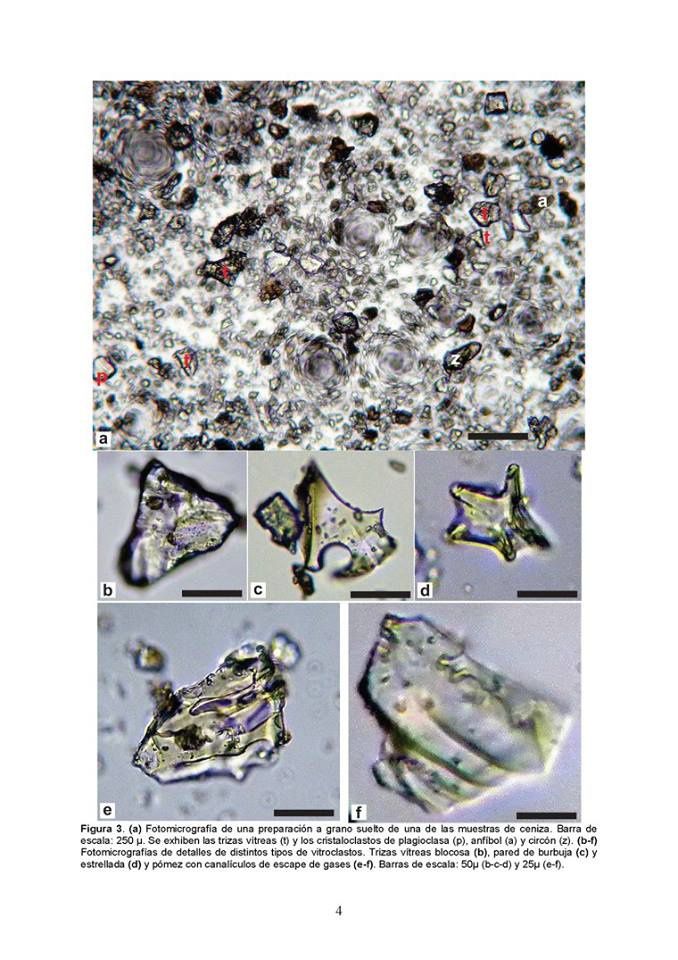 Petrographic analysis of the ashes of Calbuco - a / ash sample under a microscope - scale 250μ - b / vitreous shard in block - c / shard with bubble in the wall - d / shard in star form - e / porous shine with small channels of exhaust gas - the scale to b-c-d: 50 μ, for e and f: 25μ. - Doc. Geologia in the UNRN.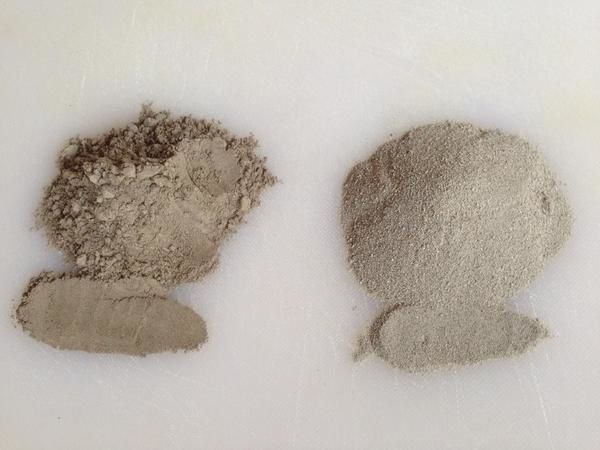 2015.05.24 - the ashes of Calbucoin 2015, left - versus those of Puyehue in 2011, right - Doc. Tomás Heller / Twitter
The ash cloud continues to affect the region of lakes and Valparaiso, now at 2 km altitude in south-central Chile, and between 8 and 12 km altitude on Chile center. The ash particles encountered at an altitude of 2 km are moving to the east and the Argentine sector.
Telesur reported that the ashes will soon reach Buenos Aires.Des flights to the Argentine capital were removed preventively.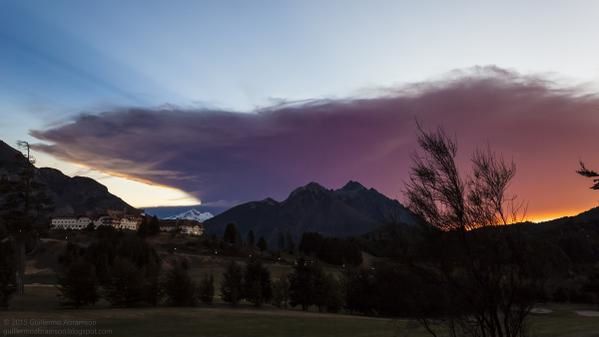 The ash cloud of Calbuco seen from Argentina, Llao Llao area / Bariloche - Photo SERNAGEOMIN / Twitter
On the ground, the traffic is made very difficult and requires utilisation of scraper type leveling gear. The layer of ash and lapilli is important and requires the cleaning of roofs to prevent collapses.

On the left, clearing of roofs to Ensenada 04.23.2015 - Photo-Pablo Sanhueza Gutierrez / AP / weather.comnews - right, the roof of a restaurant collapsed under the weight of ash to Puerto Varas- Photo-Luis Hidalgo / AP /weather.comnews
SERNAGEOMIN reports that pyroclastic flows reached a distance of 7 km and channeled lahars traveled to 15 km from the volcano, and caused an increase in the level of the Rio Blanco.

A survey by helicopter showed that the Calbuco now has 6 active vents located at the place of the old dome; a thermal anomaly is reported, described by Mirova as moderate. Harmonic tremor is reported to 2:38 p.m. on 24.04, and a plume of 2,000 meters at most.

The Onemi has ordered new evacuations by flood fear of the Rio Correntoso. The number of evacuees amounted to 6.514 (official figures 24.05.2015 / 16h

Sources :
- Sernageomin & Onemi
- Médias cités