A total solar eclipse is a rare phenomenon to be observed ... 71 total eclipses occurred in the 20th century in the world. The 21st century will see 68 eclipses, and it is the 9th of this century. The shadow of the moon is projected this time on a tape that goes from the southern Greenland to the north pole, by the Faroe Islands and Svalbard. Partial Phase interested Icelandic coast in its southern portion, near the northern limit of this band.

I had the opportunity to see her in Vík í Mýrdal (in Icelandic : " the Bay (Vik) of the valley (dal [ur]) of swamp (MYR [i]) " or more commonly Vik) on the south coast Iceland, on March 20, 2015, where she was seen more than 95%.

The viewpoint is located on the site of Dyrhólaey, a peninsula formed partially by a submarine eruption 80,000 years ago, and made of tuff to the east and to the west of dolerite.
Considered as one of the top ten beaches in the world, it houses various rocky headlands, Litlidrangur, Kambur (height 29 m), Mávadrangur (32 m), Lundadrangur (34 m), Háidrangur (43 m), Söðulsker, Stampur, Miðsker, Skershali.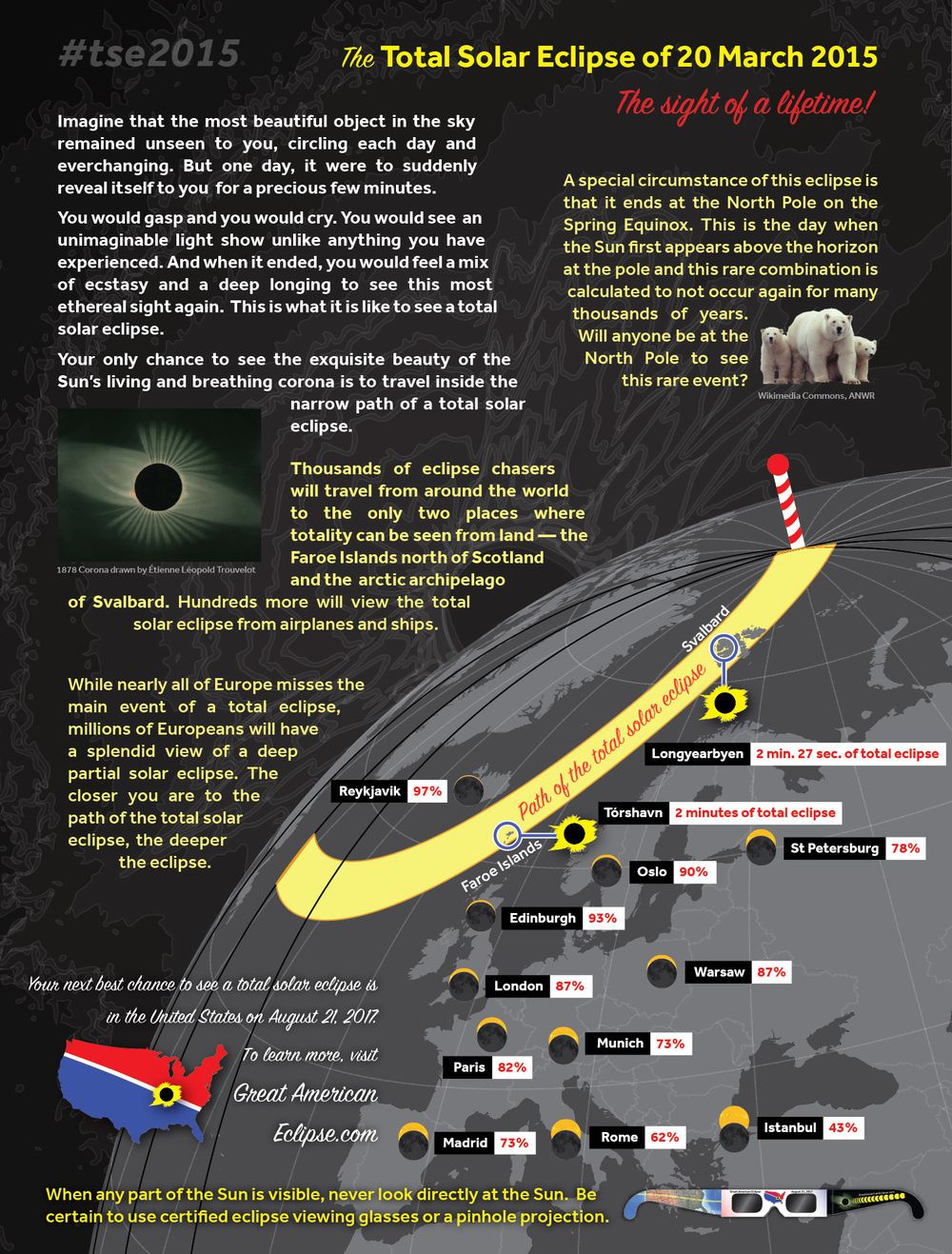 Eclipses are related to the history and legends ...

The Aztecs attributed the eclipses to the fight between Quetzalcoatl, the feathered serpent, and Tonatiuh, the sun god. Among the Egyptians, the legend connected them to attack of the sun god Ra by the snake Apophis.

In Scandinavia, two giant wolves Sköll ('push') and Haiti ("Hate"), which chase the sun and the moon, and eventually devour them.
An Icelandic legend is related to site of Reynisdrangar, near Dyrhólaey : two trolls have been surprised by the first rays of the sun while trying to thwart a three-masted on the shore and turned to stone ... these are the needles of lava eroded by the sea and the wind ... but that's another story, to be followed in a few days.


Sources:
Thanks to my friend Jean-Michel for his shots during the eclipse.
The various sites
- cited: IMCCE / Paris Observatory and Great American Eclipse
- or consulted in advance: Nasa - Astrosurf - INPES