There are two hundred years, Mayon entered a deadly eruption for more than 1,200 people

One of the earliest, and more understandable examples is provided by Andreas Fedor Jagor, a German ethnologist, naturalist and explorer, who published a story in his book "Reisen in den Philippinen" (1873)

"At about 8 o'clock that morning (1st February 1814), the volcano suddenly belched forth a thick column of rocks, sand and ashes which rapidly rose to a great height… the slopes of the volcano were covered and disappeared from our sight. A river of fire appeared below, threatening to engulf us. People fled in search of higher land. The darkness increased… the fugitives were subjected to falling rocks…. There was no security in the houses because the heated rocks caused fire. Thus were converted into ashes the richest towns of Camarines.
"About 10 o'clock the rain of large stones (bombs) ceased, substituted by a rain of sand; and (by) 1:30 the noise somewhat diminished and the sky began clearing up. The ground was covered with cadavers and the seriously wounded; in the church of Budiao were 200 persons and in a house of that same town were 35 people. Five towns of Camarines were completely destroyed and the major part of the villa of Albay. Some 12,000 people died (estimation by Phivolcs), very many were seriously wounded, and those who survived lost all their property. The volcano had a sad and horrendous aspect; its slopes previously so picturesque and cultivated, could be seen covered with sand; the blanket of rocks and sand had a thickness of from 10 to 12 yards. In the area where Budiao was located, the coconut trees were buried up to their crown…The most beautiful part of Camarines, the most fertile region of the Province, had been transformed into a barren sandy desert. "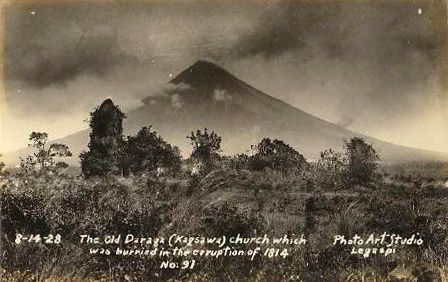 The ruins of the church of Cagsawa after the eruption of 1814 - photo 1928 / Art Studio Legazpi / via Fabulous Philippines.
Macabre story: the priest of the church of Cagsawa rang bells to warn people of the eruption. Hundreds of people took refuge in the church, but unfortunately the lava and ash surrounded and covered the church, killing nearly 200 people. Today, only remain of this eruption, the steeple of the church, and the ruins of the house of the priest and the convent.

Despite outdated, and in terms not always accurate Volcano level style, this text describes the eruption with precision, leaving us to imagine the disaster.

This Plinian eruption, accompanied by pyroclastic flows, lahars and lightning, ranked VEI 4 by the GVP, is comparable to that of Vesuvius, engulfing Pompeii and Herculaneum in 79. It destroyed the cities of Camalig, Cagsawa , Budiao, Guinobatan and a major portion of Albay.

Given its power and the presumed height of eruptive plume, this eruption may have contributed with that of Tambora in 1815, to a "year without a summer" in 1816.

The last eruption of Mayon date May 2013