The massive of Kondyor form, seen from space, a perfectly circular crater 8 km. in diameter, the peripheral ring peaks between 1200 and 1400 meters, and overlooks of a few hundred meters the Aldan Shield, in the extreme east of Siberia, near the Sea of ​​Okhotsk. A river flows from the north side of the massif, fed by rainwater collected in the crown; it cuts the massif by a present before the first fruits of its flow channel, called "superimposed topography" phenomenon.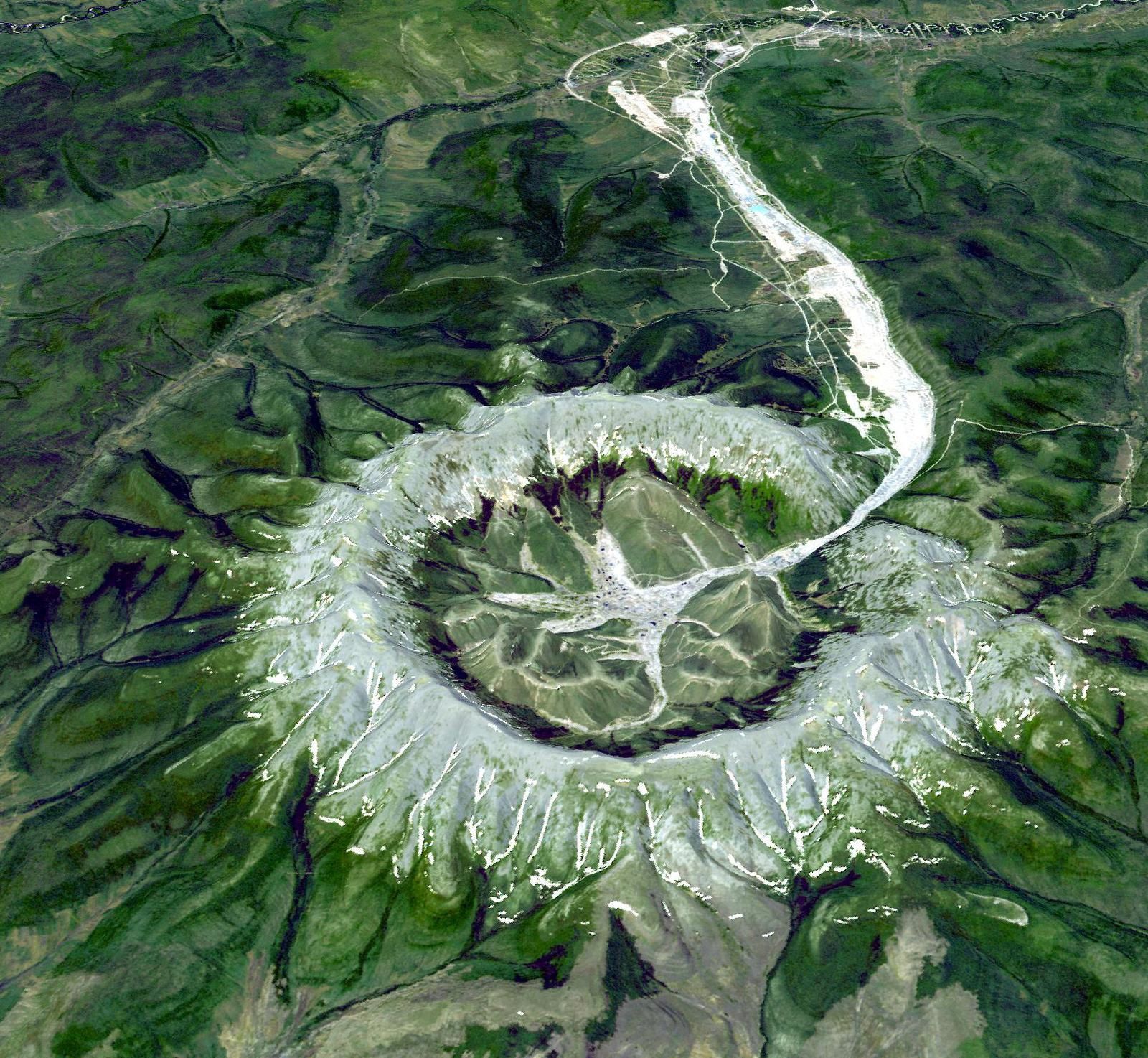 The massive of Kondyor - Doc. Credit: Jesse Allen. Data courtesy of GSFC / METI / ERSDAC / JAROS and the US / Japan Aster Science Team
It is, however, neither a volcanic caldera , neither an impact crater !

His crown result of the erosion of a dome of sedimentary rocks metamorphised at high temperature, the apex of a mantle diapir that would have crossed the lithosphere to reach the Earth's surface. A field campaign, organized by the team of Jean-Pierre Burg, ventures between INSU and ETH-Zürich, confirmed this translithospheric diapirisme.

Mineralogical composition evolves from a core composed of dunite, olivine-rich rocks dominant in the upper mantle, until a halo of rocks where pyroxene dominates.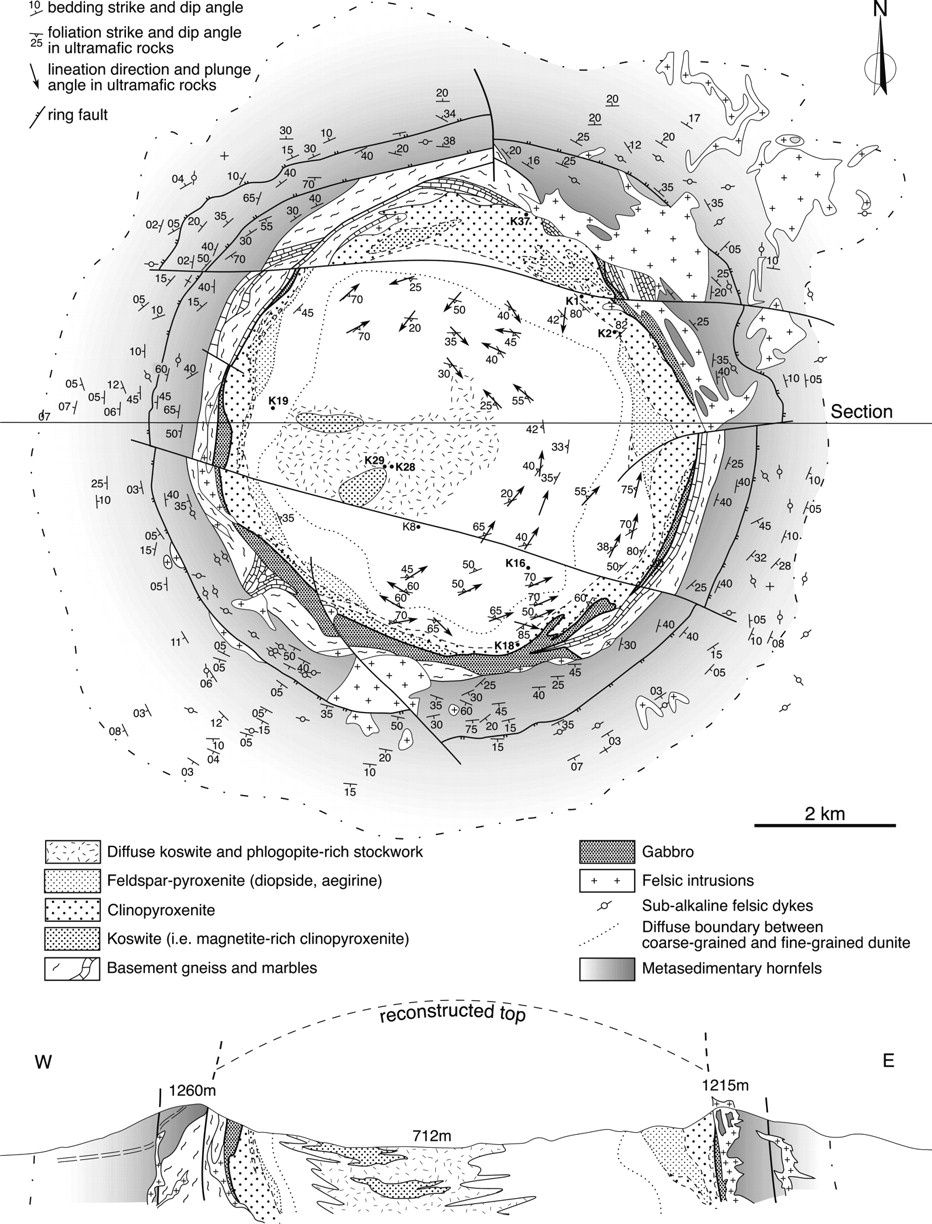 Geological map of cross section of the massive of Kondyor - according Orlova (1992)), Zemlyanukhin & Prikhodko (1997) and Burg et al (2008)
This amazing natural landscape proves to be source of platinum and gold, operated by Russian mining companies. Large crystals of a Pt-Fe alloy, gold coated, are a feature of the deposits.

Furthermore, the presence of konderite, a mineral containing copper, platinum, iridium, rhodium, lead and sulfur, allowed the geologists to deduce the formation processes.

Analysis of zircon crystals allows a dating reflecting a long evolution of the platinum-bearing dunite, between 2477 Ma and 143 Ma. Age of ancient zircons indicates an age of metamorphism at the edge of the Archean and Proterozoic (about 2.5 Ga). The age of the youngest zircon is linked to tectonico-magmatic activation of the Aldan shield at the time.

This structure would not be a simple curiosity of nature, according to the study of the CNRS, but the witness of a more general process, perhaps related to the initiation of rupture of continents.
Sources :
- Nasa Jet Propulsion Laboratory - Photojournal - Kondyor massif Russia
- Journal of Petrology - Translithospheric Mantle Diapirism: Geological Evidence and Numerical Modelling of the Kondyor Zoned Ultramafic Complex (Russian Far-East) - par J-P. Burg & al.
- CNRS - Quand le manteau remonte à fleur de Terre en Sibérie
- The age of Kondyor massif dunites (Aldan Province, Russia): First U-Pb isotopic data – par K.N.Malitch & al