The Japanese Meteorological Agency raised the alert level of the volcano Tokachidake 1 and 2, accompanied by a prohibited area of 1 km. 62-2 around the crater. This is the first time since December 2008 that the volcano alert level is increased, for fear of a possible eruption "small scale".
Since July 2014 there have been a number of changes in the rates of seismic activity in the region. For example, in September 2014, there were volcanic tremors, lasting for almost 22 minutes.
The Tokachidake consists of a group of andesitic stratovolcanoes, and lava domes, oriented NE-SW on a tuff plateau of Pleistocene. It is located in the center of Hokkaido, north of the Japanese archipelago. Many of explosion craters and cinder cones are scattered on the upper flanks, the active centers being located at the northwest end of the chain.

Since the mid-19th century, frequent phreatic type eruptions were recorded. The most important were held in 1926 and 1962.

The eruption of 1926-1928 was accompanied by the collapse of the central cone and a debris avalanche. A lahar descended the Biei and Furano rivers, reaching the town of Kami-Furano, 25 km from the volcano, killing hundreds of people. Pyroclastic deposits is estimated at 13,000 m³ and those of collapseof the cone between 2 and 4 million m³.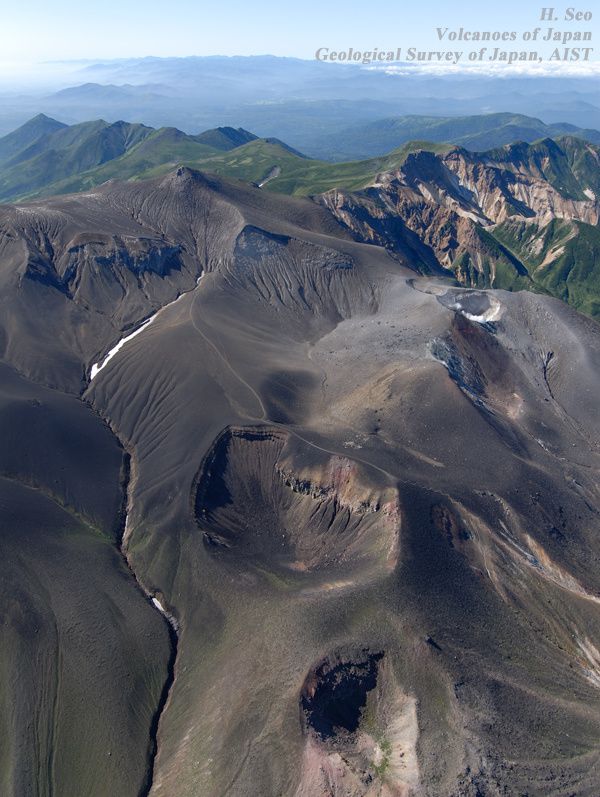 Tokachidake - From the front to the background, Kitamuki craters, Suribachi, Ground crater with at his right, the crater 62-2, and the summit in the background - The 62-2 crater shows a fumarolic activity - Photo H.Seo 2007 / Geological Survey of Japan
The eruption in 1962 took his seat in the new "crater 62", located on the western edge of the Ground crater. The eruption column reached 12,000 meters and covered with ash the entire eastern Hokkaido and southern Urup island at 650 km.

Following the eruption, a pyroclastic cone was formed and five craters, called 62-0 to 62-4. Only 62-2 and 62-3 craters resisted, others were buried under subsequent deposits.

The eruption of 1988-1989, sitting at 62-2 crater, had first a phreatic phase, followed by a second phase phreatomagmatic accompanied by ash fallout to Abashiri, on the coast of the Sea of Okhotsk. The following ash falls were distributed on ESE - SE of the volcano.

The GVP reported last eruptive activity from February to April 2004.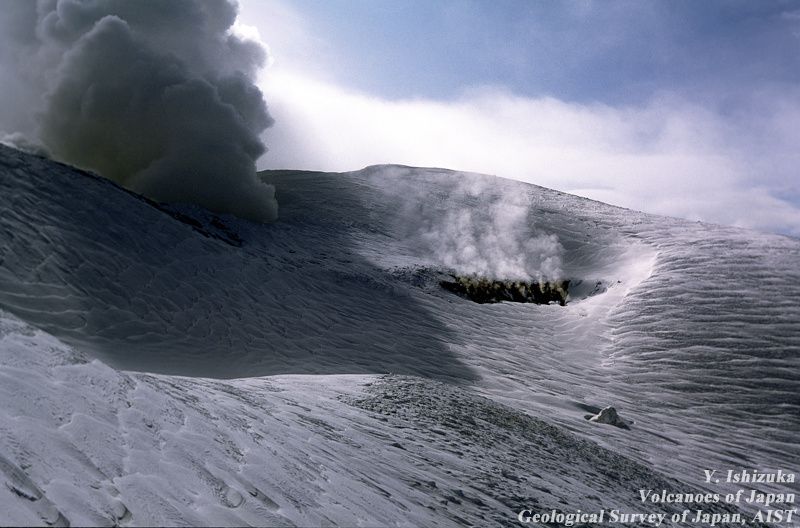 Tokachidake - the central crater is contiguous with the 62-2 crater formed in 1962, with a fumarolic activity - photo Ishizuka 1995 / GSJ