The annual meeting of the EGU - European Geosciences Union - to Vienna highlights the puzzles that characterize the subsurface Vogtland.
The Vogtland region, south-east of Germany in the triangle Bavaria-Saxony-Bohemia, is known for its hot springs and numerous earthquakes.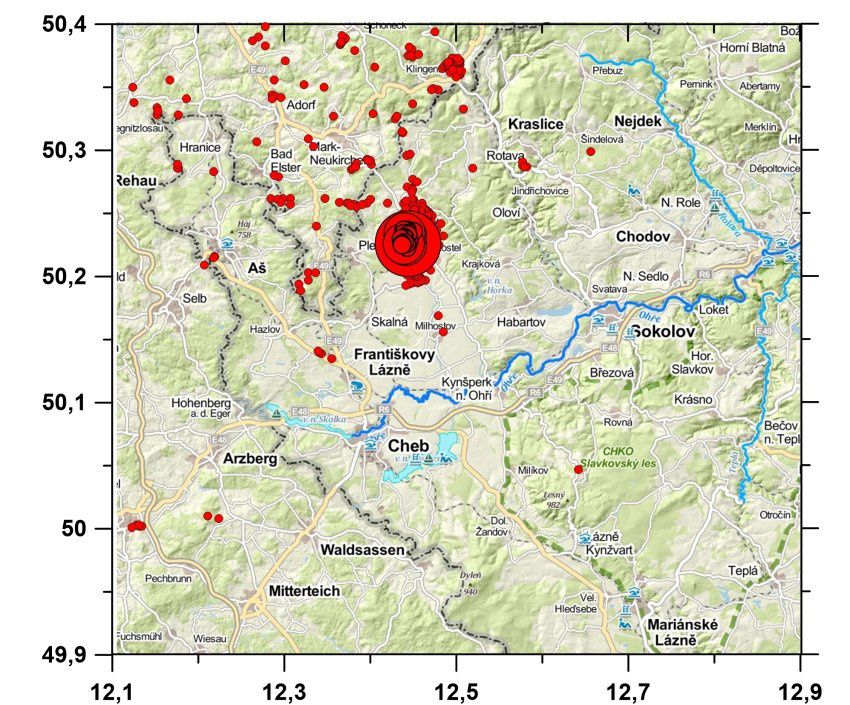 From 1985-1986, more than 90% of the seismic activity is released into the area of ​​Novy Kostel. The location of hypocenters directly under the NKC station (Novy Kostel) suggests a new place activated on the plane of the fault Novy Kostel.
In previous years, scientists have noted an increase of magma movements towards the surface in the Cheb Basin. These magmatic lifts could be the cause of these seismic swarms, which also hit the Vogtland, northwestern Bohemia and the upper Palatinate.
A change has emerged in recent decades with shorter seismic swarms, but of more high magnitude. On May 24, 2014, a 3.5 magnitude earthquake was recorded, followed on May 3 by another earthquake of M 4.5, felt in Leipzig and Bavaria. Scientists at Karls-Universität of Prague does not explain these changes.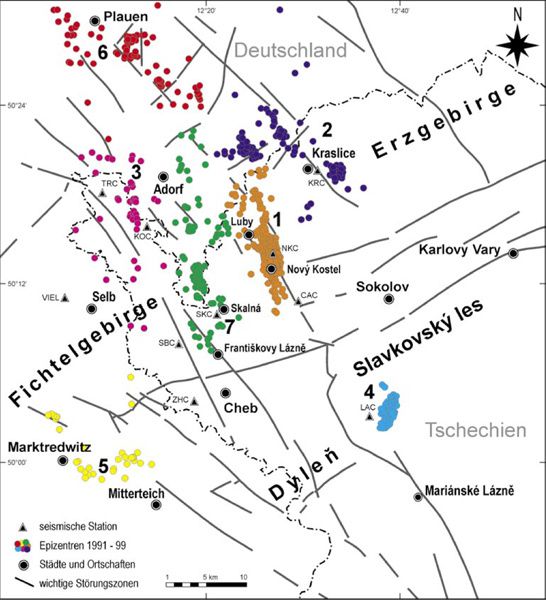 Seismic swarms in Bohemia and Vogtland - Epicentres from 1991 to 1999 and regional faults - Doc. A.Peterek - NKC: seismographs Novy Kostel
They spotted together after the earthquake of 2014 an increased diffusion of volcanic gas.
Following the earthquake, and the opening of new routes for gas, the activity level has increased in the "mofettes".
In recent years, the proportion of helium-3, formed in depth, increased relative to the helium-4.
Both parameters show an increase of the magmatic activity in deep ... no signs of a volcanic awakening however imminent !
Measurements show that an accumulation of glassy rocks exist between 30 and 60 km deep, relic of volcanic activity, hotspot intraplate-type, dating back some 300,000 years.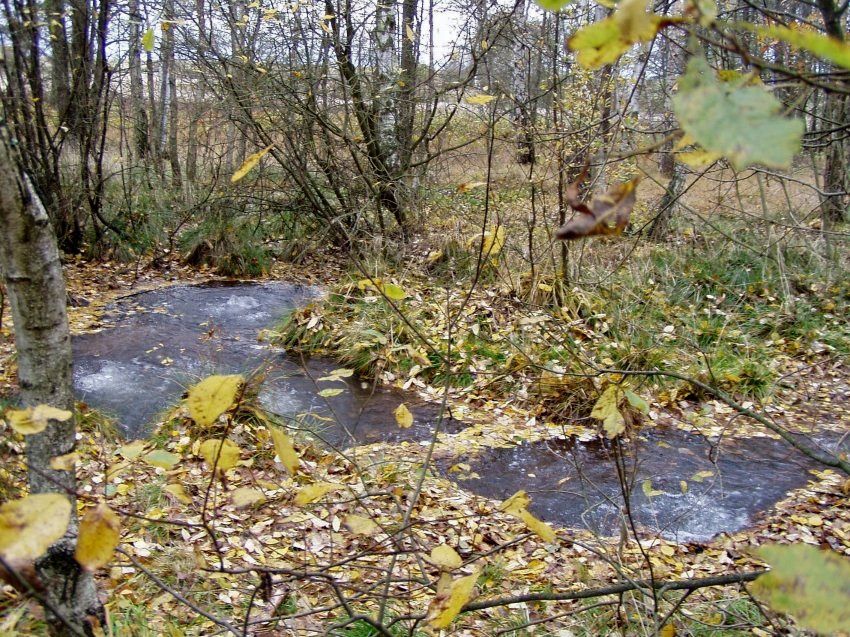 The region of Frantiskovy Lazne (Bohemia) near Novy Kostel, has areas with active mofettes, including one called "Bublák" (the "gouglouteur").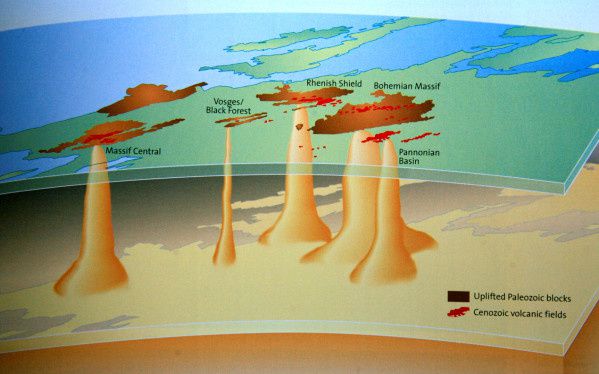 "Deep Roots" of intra-plate volcanism beneath young Europeans volcanic fields, based on seismic tomography. - Doc. from "Volcanism" H-U Schmincke.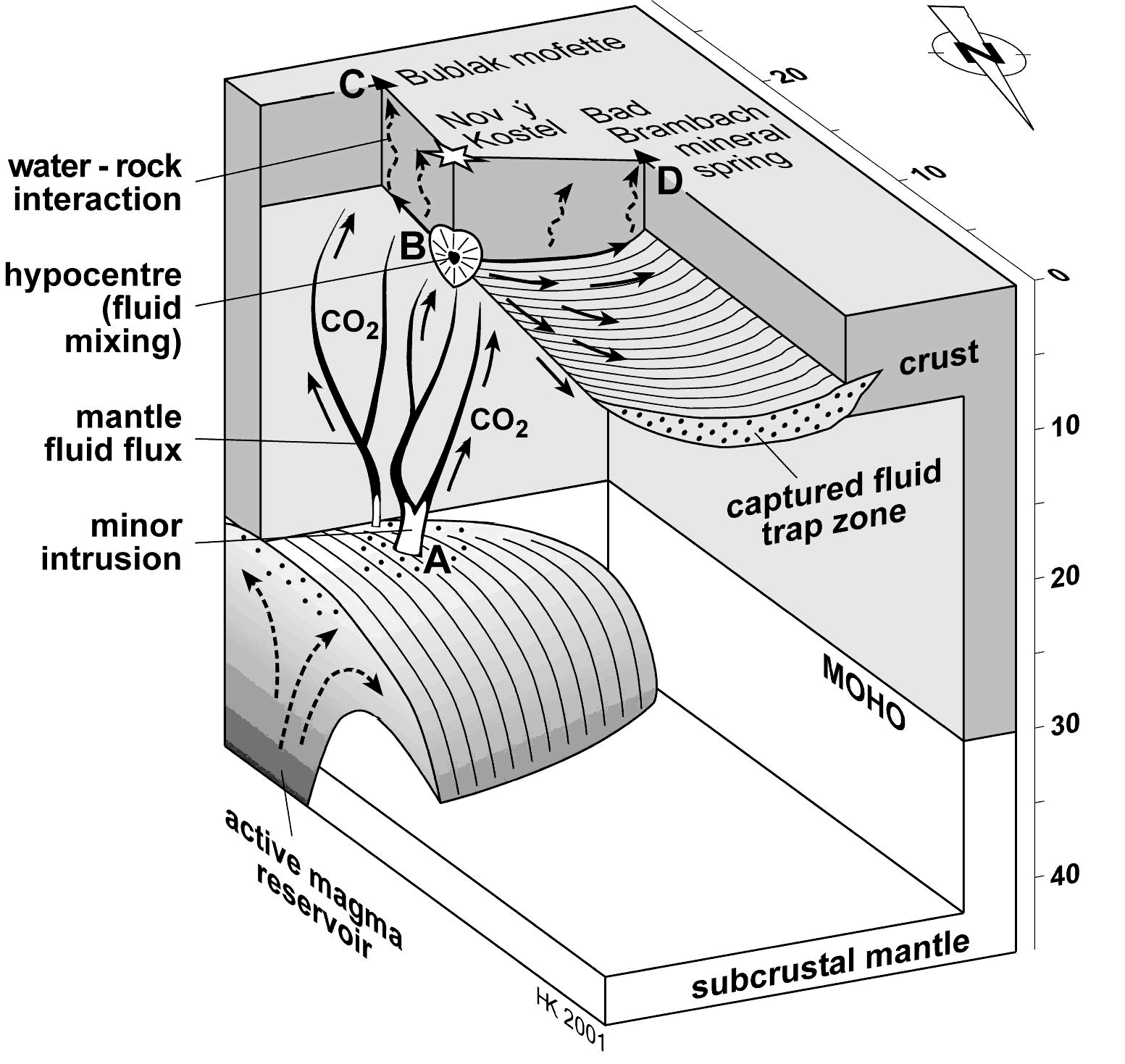 Interaction between the magma and CO2 causing its ascent to mofettes and mineral water springs in Bohemia. - Doc. UFZ
It must be remembered that two volcanoes dated quaternary are close: the Komorní hůrka (the galleries Hill), also known as Kammerbühl and Železná ůrka (Iron Hill) - or Eisenbühl.

Sources :
- Der Spiegel on line - Aufsteigende Gase: Der unheimliche Atem des Vogtland-Vulkans
- Combined gas-geochemical and receiver function studies of the Vogtland / NW Bohemia intraplate mantle degassing field, Central Europe – by H.Kämpf & al.
- GFU - Geofyzikální ústav AVČR - Institute of Geophysics ASCR - link
- Zitternde Erde – Die - Schwarmbeben in Nordwestböhmen - par A. Peterek & R.Schunk - link
- Volcanism - de H.-U. Schmincke - éd. Springer