Satellite images related thermal anomalies on various volcanoes of the Kuril archipelago since early December.

The SVERT, the Sakhalin Volcanic Eruption Response Team, points out this anomaly
- between 2 and 5 December and 7 December at Chirinkotan (48.98 ° N, 153.48 ° E), in yellow aviation code
- between 2 and 5 December, at Chirpoi volcano (46.525 ° N, 150.875 ° E), in yellow aviation code
- on december 3 at Sinarka (48.875 ° N, 154 175 ° E), accompanied by a diffuse plume of steam, gas and some ash drifting NE 40 km, as well as diffuse emission of gases and steam on 6 December. His aviation code is yellow.

The GVP report vapor and gas emissions at Sinarka since November 11, 2014.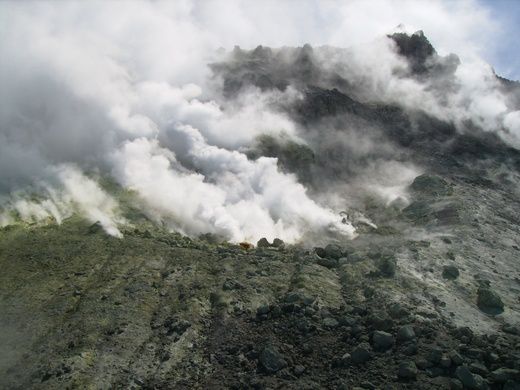 The Sinarka volcano on the island Shiashkotan, north of the Kuril Islands - photo Imgg.ru / 2007-2008
The Kuril Islands form a volcanic archipelago, a broken line of 1,250 km from the southern tip of Kamchatka at the northern tip of Hokkaido, in Japan, which geographically separates the Sea of Okhotsk from the Pacific Ocean.
Kuril includes 68 volcanic centers above the sea level, including 36 considered as active recently, and many submarine volcanoes. These remote islands, mostly uninhabited, are located a few hundred kilometers of major air corridors used daily by more than 200 aircraft, which warrants vigilance.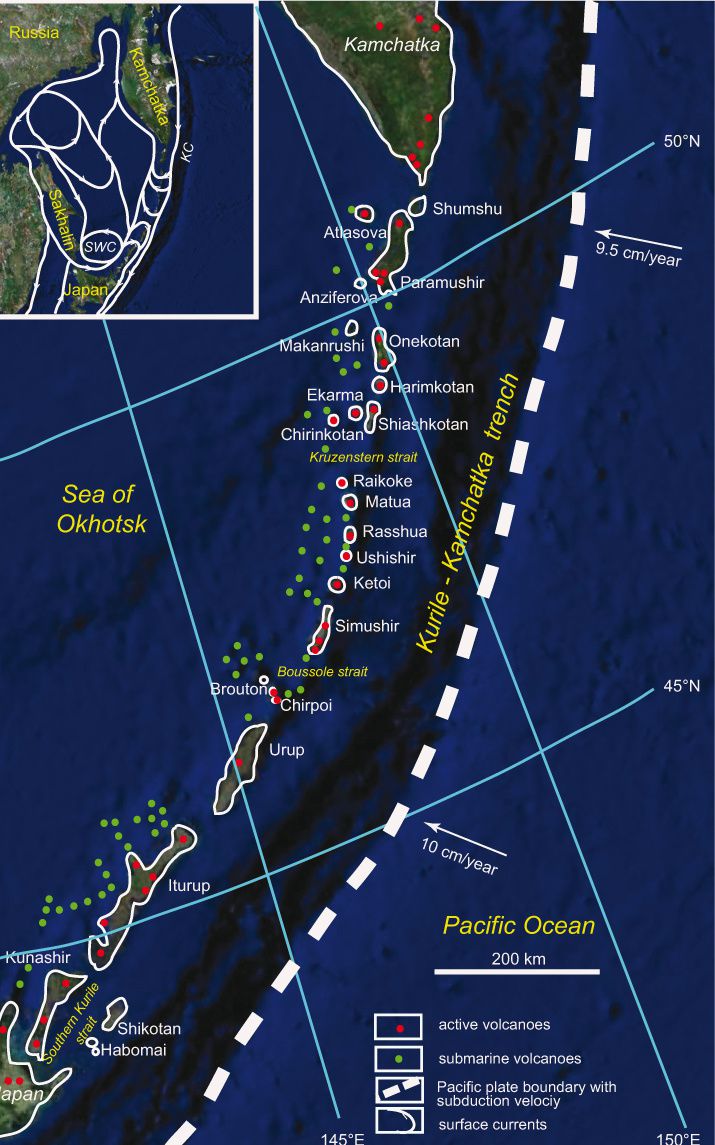 Location of different volcanoes in the Kuril archipelago and local tectonics: the Pacific plate dives under the microplate Okhotsk - SWC: Soya warm current; KC: Kamchatka Current. - Doc. A.Belousov / Institute of Volcanology and Seismology, Petropavlovsk, Russia & T.Miller / USGS
The Sinarka (in Russian. Влк Синарка; in Japanese: 黒 岳; Kurodake) is a stratovolcano that occupies the north of the island Shiashkotan, separated from Kuntomintar Volcano, located on the south, by a narrow isthmus.

It has erupted four times between 1725 and 1878.
Its last major eruption began in 1872 and ended in 1878. Of VEI 4, it produced pyroclastic flows, some of which are responsible for the destruction of the village of Ainu. After the eruption, a significant andesitic lava dome filled the post-glacial andesitic cone set in a depression open towards the north-west ; two other domes are close to the edges of the caldera.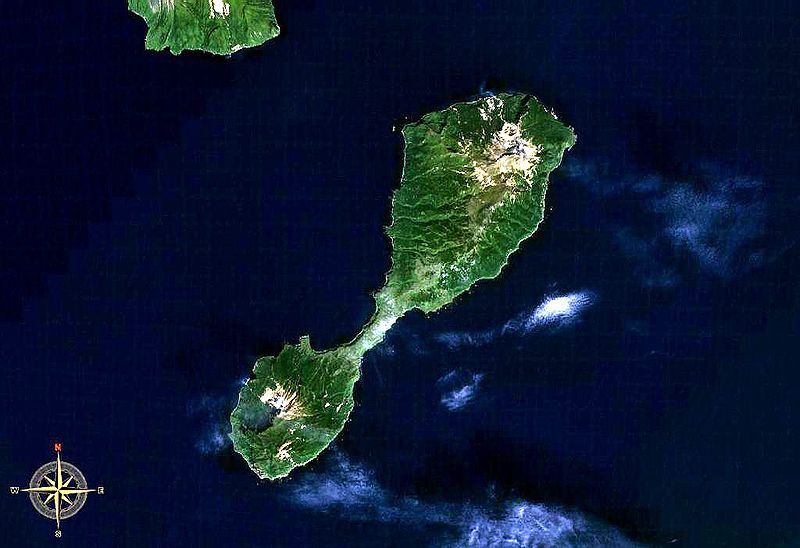 The Shiashkotan island with the Sinarka volcano, northeast, and southwest, the Kuntomintar volcano - Landsat image.