Three other pyroclastic formations attributed to acid magma volcanoes mark the Limagne.

A first formation , CF5 named , was observed exclusively in the area of ​​Clermont- Ferrand ( Clermont Basin , Grand Marsh Limagne - area Gerzat ) .

It is a laminated ashy cream pastel pink which is a fallout of coarse ash of rhyolite composition. The volcano - source was identified by mineralogical studies : the crater Kilian (or the Puy de Vasset ) . However, this type of Pelean volcano has a crater because its dome was beheaded by violent vertical explosions . This eruption is dated about 9500 years , by palynology at the transition to the beginning of the Boreal - Atlantic.

The Kilian is located south of the Puy de Dôme, and his trachyte provided the blocks used in the construction of the Temple of Mercury - 2nd century, at the top of the Puy de Dome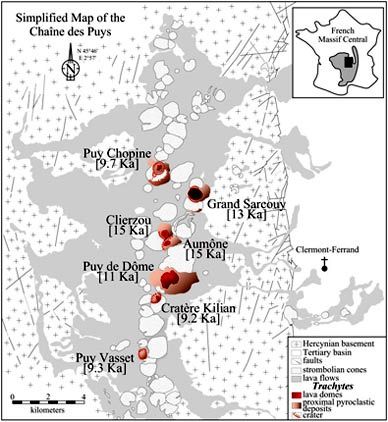 Location of volcanoes around the Puy de Dôme - doc OPGC / Observatoire de Physique du Globe Clermont- Ferrand
The second formation corresponds to a level of ash, very similar in nature to CF5 , discovered in the lake filling the paleo- lake Sarliève . This new fallout was called Tephra of Sarliève .


A third formation named CF7 has been recognized in several stratigraphic Limagne northeast , east and south of Clermont- Ferrand .

This is centimetric angular fragments of trachyte scattered in mostly beige silt level . The morphology of these fragments suggests that they are derived from the crust of a acid lava dome . Its attribution to a specific volcano of Chaîne des Puys is being discussed although initial analyzes ( geochemistry and analysis of radionuclides ) indicate origin as the Puy de Clierzou neighboring the Puy de Dôme, north side.

The explosive violent episode is part of a historical complex : an incomplete ascent of magma ... during this, the trachy - andesitic lava is not emitted to the air, then an explosion that blew the lava plug formed and an infiltration of trachytic lava in the ashes and the solidification of the mixture.

The CF7 training was highlighted in archaeological levels of Sauveterrian age.(Mesolithic ) .
The habitats of Limagne have been affected by at least four trachytic eruptive episodes of the Chaîne des Puy , there are about 9500 years. This impact is dramatically changing the vision of volcanologists on these trachytic eruptions in connection with prehistoric human activity.
Sources :
- Eruptions trachytiques de la Chaîne des Puys (France) et leurs impacts sur les environnements - par Gérard Vernet et Jean-Paul Raynal - link
- La Formation de Marsat et le Téphra CF7, marqueurs distaux d'éruptions trachytiques violentes de la chaîne des Puys au Boréal - par Vernet et Raynal - link
- Nouvelles données sur le téphra de Sarliève et le téphra CF7, marqueurs chrono-stratigraphiques de Grande Limagne (Massif central, France) D. Miallier et al., C. R. Geoscience 336 (2004).
- Guide des volcans d'Europe et des Canaries - M.Krafft & de Larouzière - éd. Delachaux & Niestlé