The alert level of Merapi , near Yogyakarta , was raised to II / alert / Waspada , April 29 . This follows an increase in tremor since April 20 , followed by another on April 29 , the day was counted 20 episodes of low frequency tremor .

An increase of seismicity related to fluid mouving inside the volcano leaves suspect magma or pressurized gas movements.
The Slamet happened in level III / standby / Siaga April 30 , accompanied by a denial of access within 4 km . around the top , which should generate very little evacuations.

The strombolian activity of Slamet has become stronger over the last two days with sound explosions , materials projections to more than 1,000 m high and ballistic impact in and around the crater.

From 26 April to 30 April, the VSI recorded 621 earthquakes related to eruptions, 1438 earthquakes of explosions, 5 volcano-tectonic earthquakes and 6 episodes of tremor . (see diagram)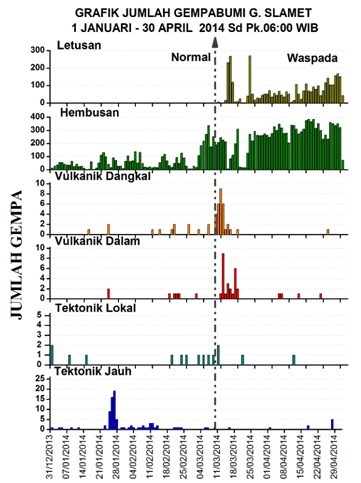 Evolution of the seismicity of 31.12.2013 to 04.29.2014 of Slamet volcano - Doc. VSI ( letusan / rash - hembusan / explosion)
Since April 26 , the amplitude of tremor increased , and the level of SO2 emitted (Aris) at Bromo / East Java . The alert level has not been raised yet , but it is recommended not to approach the crater within a radius of one kilometer.

The current presence of a small lake in the crater could influence the type of a possible eruption.