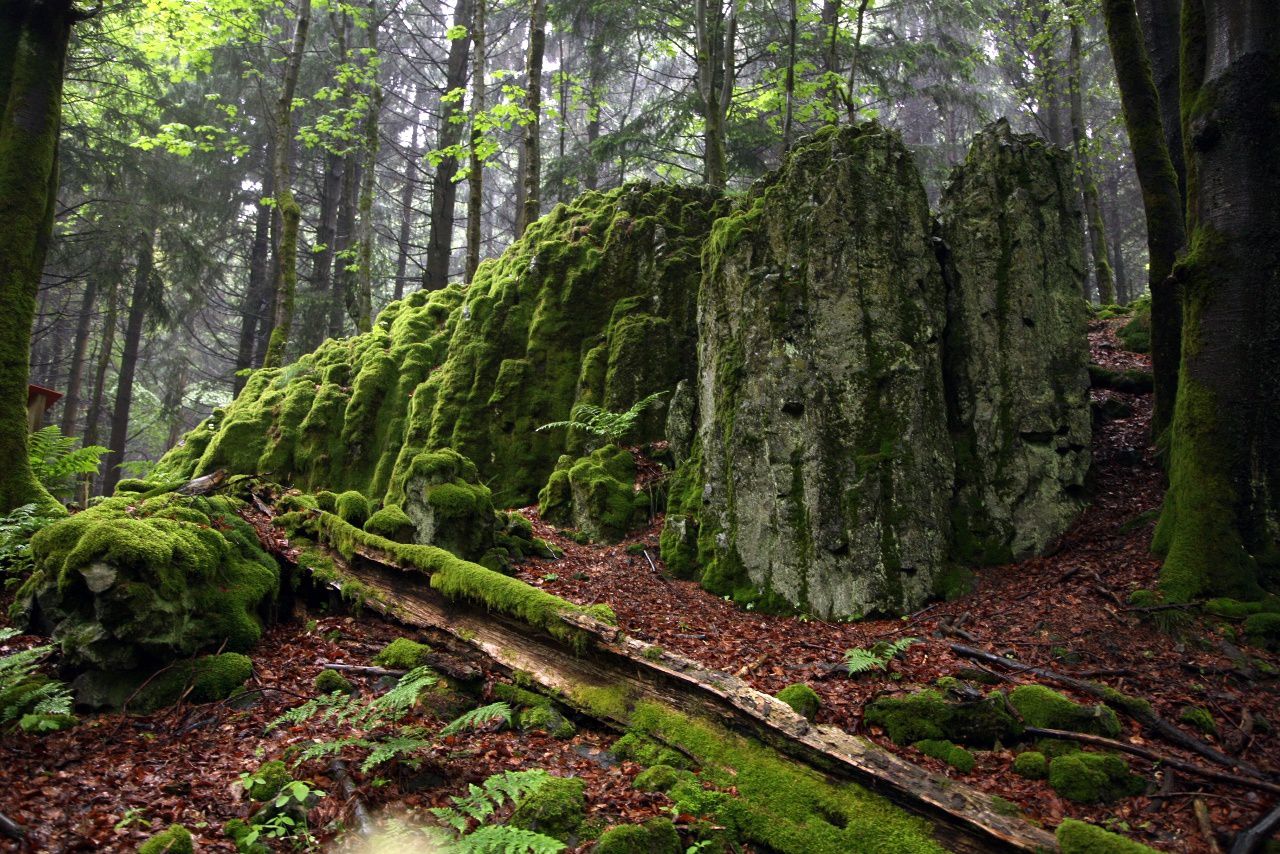 Vogelsberg / Grebenhain "Bonifatius Kanzel" - the St.Boniface Chair - photo © Bernard Duyck 05.2014-

GPS: 50 ° 29'12 / 9 ° 16'58 - easily accessible on foot from the parking of the height of Herchenhain.

This broad basanite outcrop called "the chair of St. Boniface" (*), is 10 meters long, 4 meters high and 3 meters wide.

This training forms the SW extremity of a series of rocks, aligned SW-NE on 40 meters. It has a dark gray color to almost black. The diameter of some of the columns of 3,5 or 6 sides is generally less than 20 cm.
Vogelsberg / Grebenhain: Bonifatius Kanzel columns faceted eroded - photo © Bernard Duyck 05.2014
Like other places in the area, his name is linked to St. Boniface, the evangelizer of Germany.

Born in England to 675 in the early Middle Ages, as Wynfreth (Winfrid), this man became a monk, priest and a renowned scholar. Pope Gregory II recognized his organizational talents and entrusted him with the mission in 719 to evangelize the Saxons in Germany. He placed under the protection of Charles Martel, grandfather of the future emperor Charlemagne.

He took the name of Boniface - "Bonifatius", of Bonnus and Fatus, good destiny - an ancient martyr, and share evangelize Hesse and Thuringia, multiplying religious foundations; He is the founder and Others Abbey of Fulda.

Promoted archbishop, he chairs a council in 739 to reorganize the local episcopate. He founded the bishoprics of Würzburg, and Erfurt Burabourg.

On the death of Charles Martel in 741, Carloman, his eldest son, who inherited Austrasia, Swabia and Thuringia, asked Boniface also to reform the Frankish church, and appointed Metropolitan of Austrasia ( the region between the Meuse and Rhine).

Boniface convened a council in 742 and in 743. On this occasion, the fate of the church property granted by the Pippinides to their "clients" is governed by the recognition of a derisory pay to the Church hundred and commitment recipient serve the king in return ... The historians see in this arrangement, the first example of a personal commitment vassal type of the landowners to the king and the beginnings of feudalism.

Became ArcMainz, Boniface has the honor of conferring the royal anointing to Pepin, younger brother of Carloman.

Becoming bishop of Mainz, dissatisfied, he resumed his stick pastor to convert the Frisians. The old man was killed with 52 companions on the day of Pentecost 754 (June 5), near Dokkum in Friesland. The apostle of the Germans will be buried in Fulda.

Its main attributes are the garb of bishop's, miter and a book crossed with a sword (weapon when he was killed). It is sometimes represented baptizing converts, one foot on a fallen oak (the oak of Thor) which is the symbol of the defeat of the pagan religion. (Herodote.net)