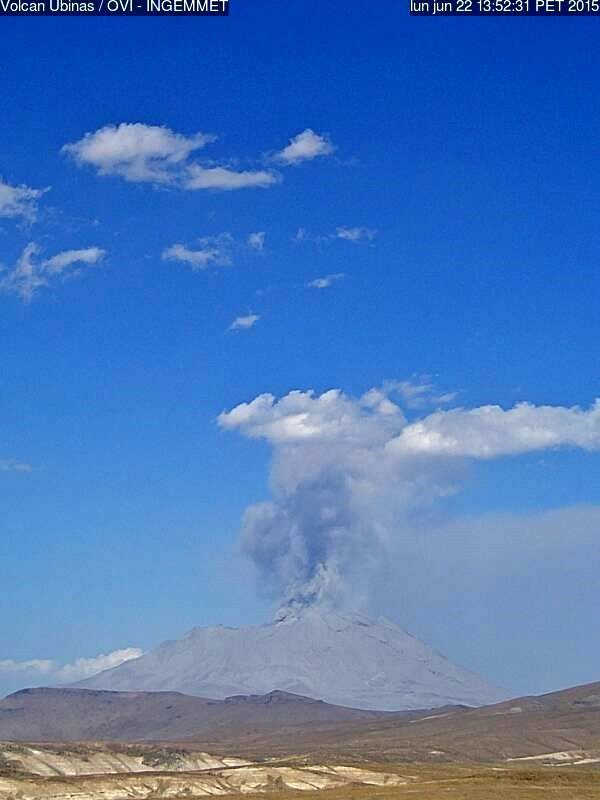 After an increase in seismicity since the beginning of the month, volcano-tectonic and hybrids earthquakes, a new sequence of ash emissions marks the Ubinas, Peru, from 20 june to 10:29 local time. The activity peaked around 14h.

The observatory vulcanologique INGEMMET (OVI) indicates that the Ubinas volcano recorded this Monday, June 22, another explosion, which was followed by the issuance of a column of ash more than 600 meters above the crater.
The volcanic explosion was registered at 08:50 and the emission of ash lasted after 228 seconds.
The dispersion of the ashes took place in a 15 km radius around the volcano, mainly south-easterly direction, affecting mainly the villages of Ubinas, Tonohaya, Anascapa and Sacohaya.
The Institute recommends to the people in the region to take precautions to protect against the ash layer that could also cause problems for livestock and contaminate the waters. It is advisable to inhabitants to wear masks and goggles.

In Sinabung on the island of Sumatra, the slow but continuous growth of lava dome and top lobe causes the production of pyroclastic flows and block avalanches.

One can only note that the distance covered by them is growing along ... on June 22, a pyroclastic flow traveled 4,500 meters to the south-east, accompanied by a co-eruptive plume amount to 4,000 meters.

The "thermal anomaly is flagged as" high "by the site Mirova.

The thermal anomaly which marks the Raung volcano in East Java, since mid June peaked last two days, according to the website Mirova.

His last active period was in January 2015, where a small strombolian cone was built on the floor of the caldera. The outpouring of lava formed a vast lava field.

No details of this eruption is given outside the satellite information.