To the Kamchatka, the KVERT announces an explosive eruption of Zhupanovsky, starting June 6, 2014. It was accompanied by a plume of ash and gas rising to over 6,000 meters depending on the Tokyo VAAC. No satellite data since the cloud cover. The aviation alert level rose to yellow.

Moderate explosions continued, requiring vigilance in air traffic.

Guatemalan press, informed by a volcanologist of INSIVUMEH, tells us a lahar from Santiaguito destroyed two seismic observatory facilities, on 5 June. Santiaguito ash were mobilized by heavy rains in recent days, related to a tropical storm.

On the video, shot at 20 km from the volcano, at the Castillo Armas bridge, you can see the river Nima smoking ! It is therefore a "hot lahar".

Video of the hot lahar from Santiaguito, by CONRED
Fuego make no exception: a Twitt of INSIVUMEH reported the issuance of a column of gray color amount to 4200-4400 meters before drifting W-NW on 6-19 km.

In the Ogasawara Islands, the situation did not change much at Nishino-shima.

An overview of the new volcano 03.06, shows three craters, craters qualified "North, South and new crater", two assets. A plume overcomes the island of about 1,000 meters.

Recent photos show the lava flows are still at sea, generating steam plumes, probably fed by lava tubes.

Discoloration of seawater is observed on the coast of the ancient volcano, which is nibble each day a little more.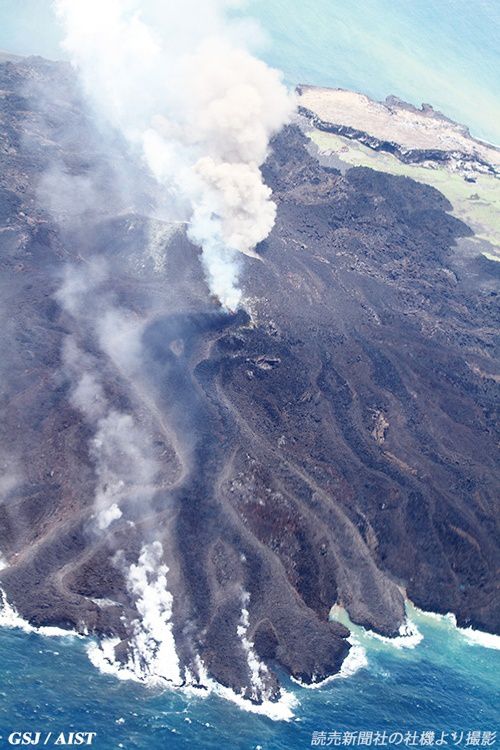 Nishino-shima - lava tubes and ocean entry - lava from the eruption in progress covers a large part of the original volcano - overview of 06/03/2014 / doc GSJ - AIST
The Japan time relays an alert rise level of Kusatsu-shirane volcano, June 3, 2014, and a risk of a possible eruption of small-scale.

This volcano, andesitic to dacitic, located north of Asama, consists of a series of pyroclastic cones overlap and three crater lakes. Its last eruption was in 1983 (GVP)

Finally, a beautiful photo of Popocatépetl, that deserves its name in Nahuatl: "The smoking mountain "