Fogo / Cape Verde:

The activity continues with a lava flow that rose 1.5 meters per hour towards Monte Beco and Monte Saia. Nadir Cardoso, from the University of Cape Verde, reports that the flow is located 1500 meters from the eruptive mouth, and should advance through a tube, since no lava emission is collected. Degassing continues accompanied by small explosions and ash plume reaching over 200 meters high. Teams from the Uni-CV continue the monitoring of gas after over two months of activity.

The International Agency of the United States for the development, USAID, has provided the United Nations Development Programme $ 50,000 to respond to emergencies. These funds are for the needs of about 1,000 displaced persons, both in terms of reconstruction materials, water tanks and other household utensils, and from that of the purchase of school supplies.

Source: Fogo News.

At Nevado del Ruiz, Colombia, the seismicity remains a concern according the Volcanological Observatory of Manizales, with the continuation of seismic activity type VT associated with fracturing of rocks, in a northern, southeast area and around Arenas crater at a depth of between 1 and 9 km, and earthquakes associated with fluid dynamics inside the volcanic conduits. Gas and vapor emissions give an essentially white plume up to 1,500 meters above the crater. The alert level remains at Amarillo / III

(Report of the SGC Manizales 01/28/2015)

Sabancaya, Peru, shows signs of disturbance of the hydrothermal system related to a magmatic intrusion. Type VT earthquakes associated with fracturing rocks are continuing with an average of 122 events / day located at the NE crater. Over the past three days, the number of episodes of tremor and that of earthquakes associated with the presence of magmatic material has increased.

Source: IGP.

To Holuhraun lava field / Iceland, the situation has little changed, despite an eruptive intensity slightly down. Measurements taken on January 21 show that the lava field gained in thickness the last three weeks, with a feed ratio of about 100 m³ / sec. Its volume reached almost 1.4 cubic kilometers.

Seismicity remains high in Bárðarbunga with 150 events since last Friday, and 50 earthquakes at the Dyke.

Sources:
- Scientific Advisory Board of the Icelandic Civil Protection 01.27.2015
- Iceland Review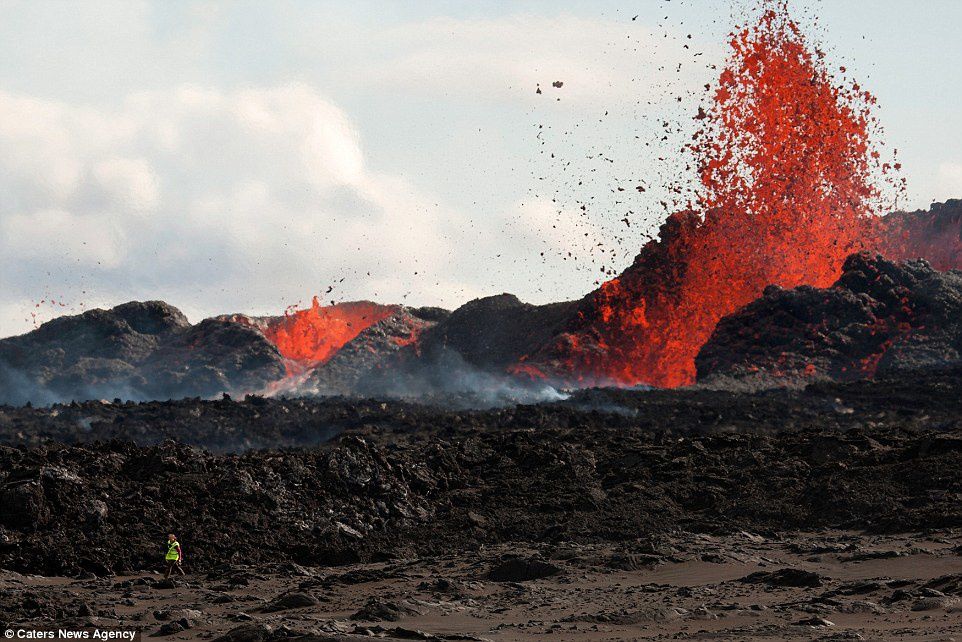 Holuhraun activity - the thickness of the flow refers to the man to the left - photo 2015.01.27 Tomas Freyr Kristjansson / Caters news agency / Dailymail