The Soputan, located northeast of the island of Sulawesi, erupted on February 11, 2015 at 7:29. The eruption was accompanied by an ash plume rising to 3,500 meters, before drifting to the southeast.

The alert was given by the PVMBG to the airport Sam Ratulanfi and BPBDs on 10 February. An unauthorized area for community activities of 4 km around the top is in effect, scope southwest side up to 6.5 km away.

Source: PVMBG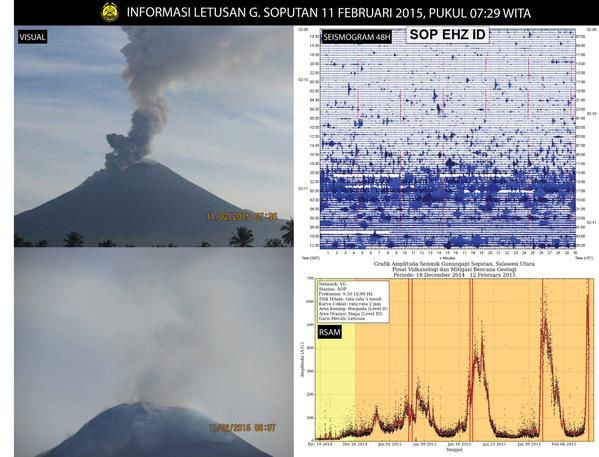 Soputan - 11.02.02015 - left, visual - right, top: sismo past 48 hours and below: graph of the evolution of seismic amplitude over time (MRS) - Doc. PVMBG
On the island of La Reunion, the eruption of the Piton de la Fournaise, which began Feb. 4, continues without significant changes in the tremor and geophysical parameters recorded by the OVPF. The rain stopped on the top middle of the day on February 11, and the south side of the volcano is visible again from the Bert Piton from 14:30.

Source: OVPF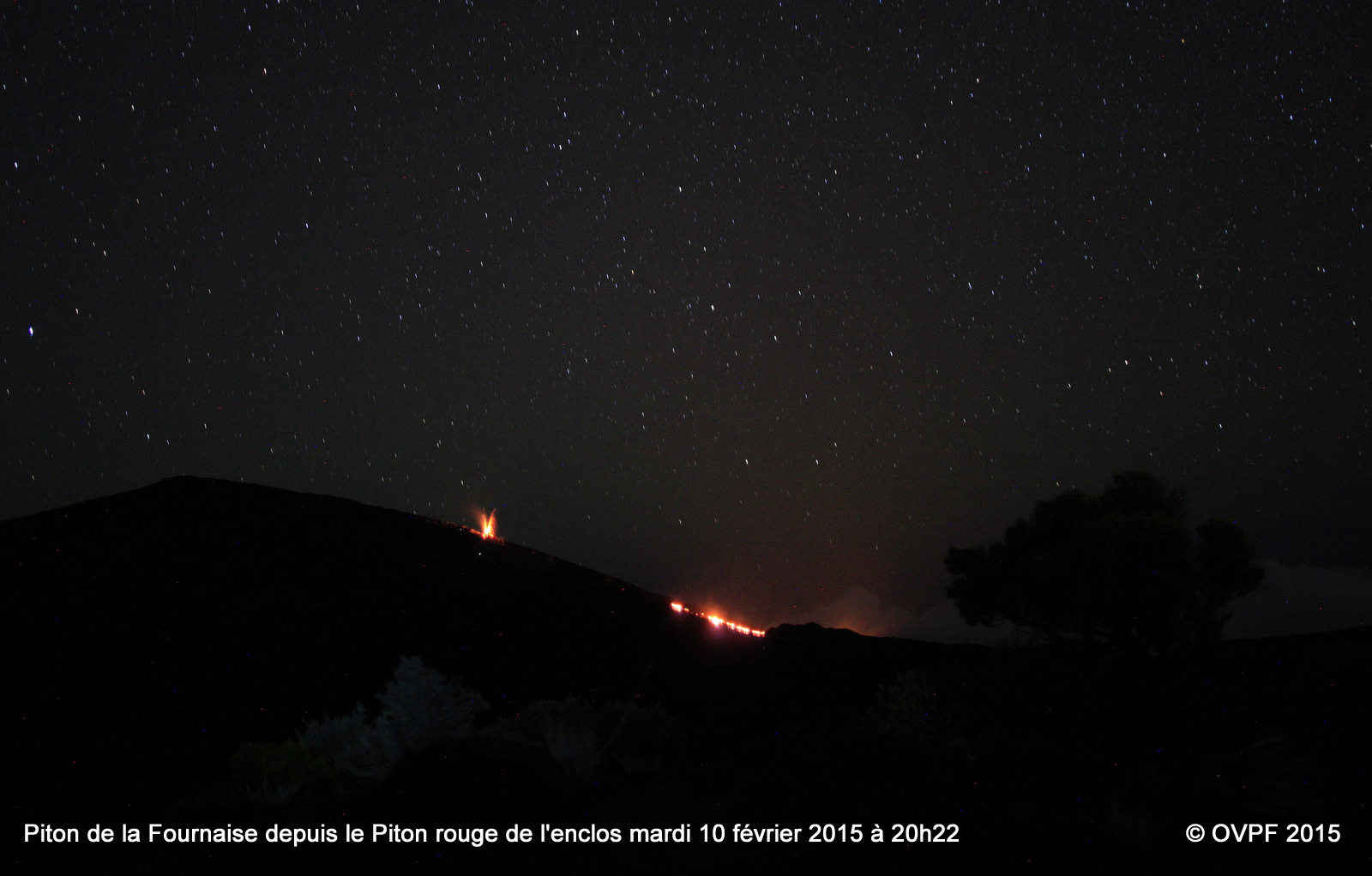 Piton de la Fournaise - the eruption and the glow of the lava flow, views on 02.10.2015 / 8:22 p.m. from the red Piton - photo OVPF
On the left, changing tremor associated with the eruption of La Fournaise - right, contours of the flow established on 08/02/2015 - a click to enlarge -doc OVPF
The Turrialba, in Costa Rica, well deserves its name meaning "White Tower" in reference to the steam plume that usually overcomes.

Fumaroles of the western crater showed Feb. 11 early in the day an increasing of gas flow and water vapor, following the entry of large quantities of meteoric water in recent days.

Source: Ovsicori

In the Pacific, local news reported a new volcanic activity spot located about 72 km south-west of the island of Vava'u (or 20 km SW of Late island).

This review follows the observation, by a pilot during a flight from Ha'apai (the last eruption site confirmed in December 2014) to Vava'u on February 9 at 15:16, of a white vapor cloud amount more 2000 feet before drifting SW.
Subject, as no trace of pumice rafts or other floating volcanic debris, nor volcanic gas smell are reported.

Sources:
- Matongitonga 02.11.2015 / 5:13 p.m.
- Daily Tonga News 11.02.2015 / 2:35 p.m.