The issuance of FR3, "Roots and Wings" last week made us travel the Lot river, from the Garonne River to its source on the Mont Lozère, along the basaltic Aubrac plateau.

Aubrac takes its name from "Alto Braco" meaning an high, humid place, the second element "brac" may be derived from either the Gallo-roman meaning "damp, muddy" , in Old Occitan brac = mud.

Aubrac, located in the French Massif Central, is a vast basalt plateau lying NW-SE on 450 km². The thickness of the volcanic ranges from less than 100 meters on the peripheral fringe, to 300 meters below the summit, where the lava flows overlap.

According to the most recent analyzes (Goer de Herve A. & al. 1991-1993), 90% of Aubrac's lava would have been issued on a very short time, in the order of 250,000 years between there are 8,7 million years and 6 Ma. (upper Tortonian)

The lavas of Aubrac are a poorly differentiated recurring series, silica content of 42-52% and are divided into nine chemical classes: picrites, basanites, alkali basalts and subalcalins, hawaiites and trachybasalts, mugearites, tephrites, phonotéphrites. Lavas have been issued in an effusive way in many points distributed on the plateau, before being heavily eroded by glaciers that have left lakes and bogs. (BRGM)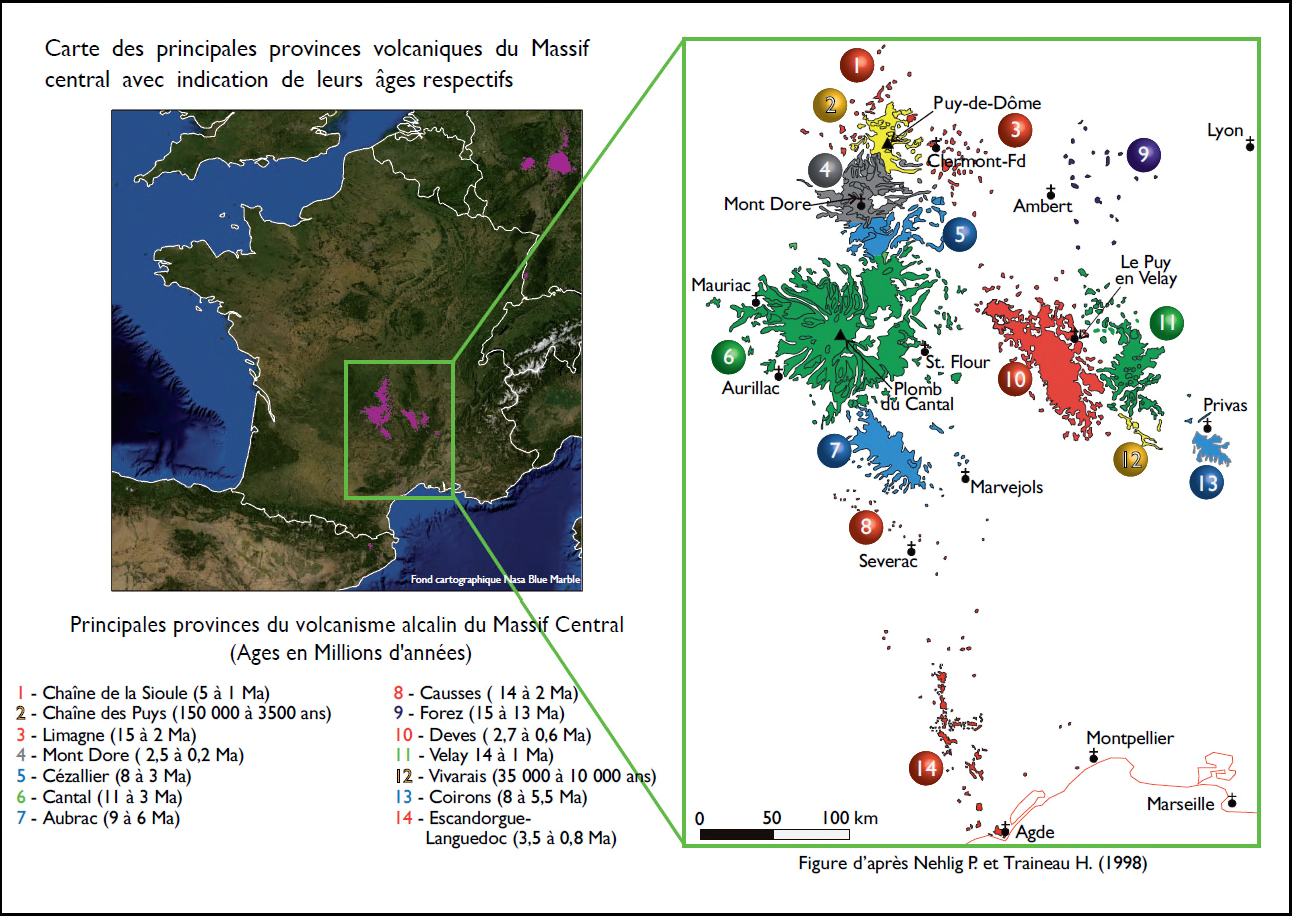 Volcanic provinces of the French Massif Central - 7 / Aubrac - map after Nehlig P. & H. Sledge / in aurelienb.
The plateau consists of various rocks, granite in the north and east, gneiss, schist in the foothills, and basalt in the center, and he lets see witnesses of the volcanic activity in various sites and in various forms: a Neck to Belvezet, a dyke at Alcorn, basalt columns at the waterfall of Déroc, in the stream of Plèches and the waterfall of Saltou.

The neck of Belvezet:

Located halfway between the villages of Aubrac and Saint-Chely, on the way to Saint Jacques de Compostela, this hamlet is nestled at the foot of the ruins of a tower, built on the neck, an old lava chimney clearing by erosion. Volcanic rock is found all around this small village.

Le Truc des Coucuts :

Le Truc des Coucuts, which rises to 1,280 meters (not accessible) is a basaltic rock with beautiful organ, located on the village of Prinsuéjois. This ancient village has the etymology "the village in the clearing," and present traces of Gallic habitation, and Roman occupation.

This inhospitable region, den of thieves, has been cleared by the monks of the Aubarc Hospital to remove resources for the poorest.
Prisuéjois now lives from agriculture and livestock breeding.

To be continued
Sources :
- BRGM – L'Aubrac - link
- Parc Naturel régional de l'Aubrac - link
- Le point sur le risque volcanique en Auvergne - link