The
"
plumbing
"
system of Volcanoes
of
Washington
are
the subject of scientific
studies by
geophysicists
.
" Volcanoes of the Cascades threaten urban centers from Vancouver to Portland, and we would understand their internal operations to better predict when they will erupt and the importance of these eruptions ..." says Alan Levander, of Rice University in Houston.

This week, the scientists will drill 23 locations on Mount St Helens in order to detonate charges, simulating an earthquake of M2, and thus study the internal plumbing of the volcano through the seismic network (3,500 new seismic sensors placed around the volcano).

The Journal Nature publishes this week a study on the internal plumbing of Mt Rainier, using seismic measurements (data collected in 2008-2009), electrical resistance and magnetotelluric measurements (data collected in 2009-2010).

The image shows the feed paths of the magma chamber beneath the volcano by total or partial melting rocks. The rocks start to fuse at about 80 km. under the volcano, and fall to one hand to the east and deep diving with the subducting plate, to another to the surface in the direction of the magma chamber, a little west of Rainier. (Picture may show a lobe of the magma chamber extending to the NW, due to the northern position of the sensors used in this study).
The movement of magma towards the surface is estimated to be 0.4 inches / 10.16 mm. per year. It is estimated that about 30% of the magma chamber, located 8 km. under the volcano, consists of molten rock .... The dimensions of the magma chamber: EO extension of 8-16 km, and the same in thickness (under reserve subject, because the NS dimension could not be determined by the position of the sensors).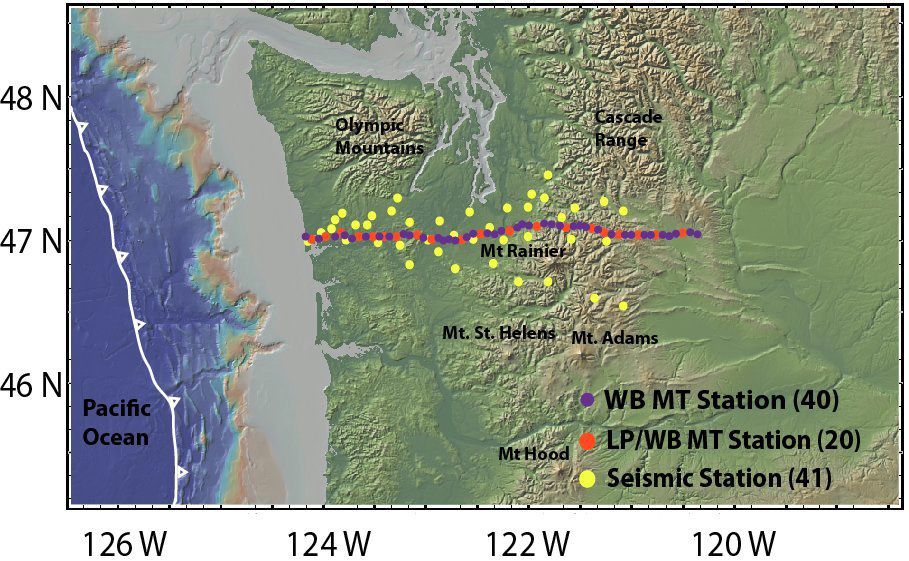 Top image: Mt Rainier and supply plumbing system beneath the volcano (symbolized by a red triangle) - the Juan de Fuca plate subducting in blue - Orange-yellow areas correspond to a higher electrical conductivity (or less resistance .) and report the position of fluids and partial melting rocks - red oval mark the hypocenters of earthquakes - bottom image: position of magnetotelluric sensors in pink / purple and seismic stations in yellow / Photo Credit: Shane McGary R, Woods Hole Oceanographic Institution - a click to enlarge.