Patagonia is a geographic region in the southern part of South America. Patagonia consists mainly southern Argentina, on 1,140,532 km2, and southern Chile on 256,093 km2. These two regions are separated by the Andes, home to varied landscapes of mountains, glaciers, pampas of subpolar forests, coasts, islands and archipelagos.

The assumption generally used today brought the word "Patagon" from a fantastic character called "Patagón", a wild creature fighting by Primaleón in Greece, in a romance of chivalry published in 1512 by Francisco Vázquez. This literature, very popular at the time, was probably known by Magellan and Pigafetta, the first to describe this region. It is likely that Magellan has associated indigenous met with their animal skins as a garment and consumption of raw meat, the creature described by Vázquez in his novel.

Among volcanoes of Patagonian Argentina, there are in Tromen volcanic field: Tromen and Domuyo, Lanin, and the Auca Mahuida volcanic field.

Tromen stratovolcano is a highlight to 4.114 meters, located in the province of Neuquén. Its local name, Pun Mahuida means "black or covered with clouds mountain."

It forms the northern end of an elongated volcanic massif ; its summit is truncated by two overlapping calderas of 3.5 km. wide.
On the left, the volcanic field Tromen - Domuyo / doc. Andean geology - right, cut of the volcanic massif Tromen / doc. Olivier Galland - ref in sources.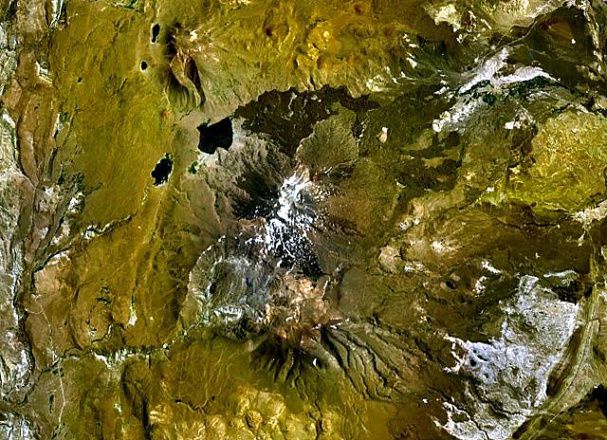 North-central, the volcanic massif Tromen, and lava flows (darker) with, to his left, the laguna Tromen - Image NASA Landsat 7.
Cerro Negro del Tromen, a Pleistocene volcano, characterized by a caldera 5,000 meters wide, is located to the north. Lava flows from Tromen partially covered the northern edge of the caldera.

At the end of the SSO chain are Cerro Tilhue, dated Pleistocene-Holocene.

Post-caldera vents are built in both calderas and on the sides of the caldera located NE. Vents dated Holocene are located in the area of ​​Cerro Michico on his lower NE flank.

Black flows of younger lava, originating from vents flank, went down the north and northeast sides of the andesitic to rhyolitic complex, towards the laguna Tromen, a lagoon 4 km ², located at an altitude of 2100 meters.

The flow front is sharp; the surface of the flow is made of large blocks, showing a red broken crust, resulting from the alteration of the rock by the rain. The rock appears unaltered in places where blocks have a recent break. Its appearance is black, with a glassy texture, indicating a rapid cooling. We can distinguish clear plagioclase, olivine and pyroxene.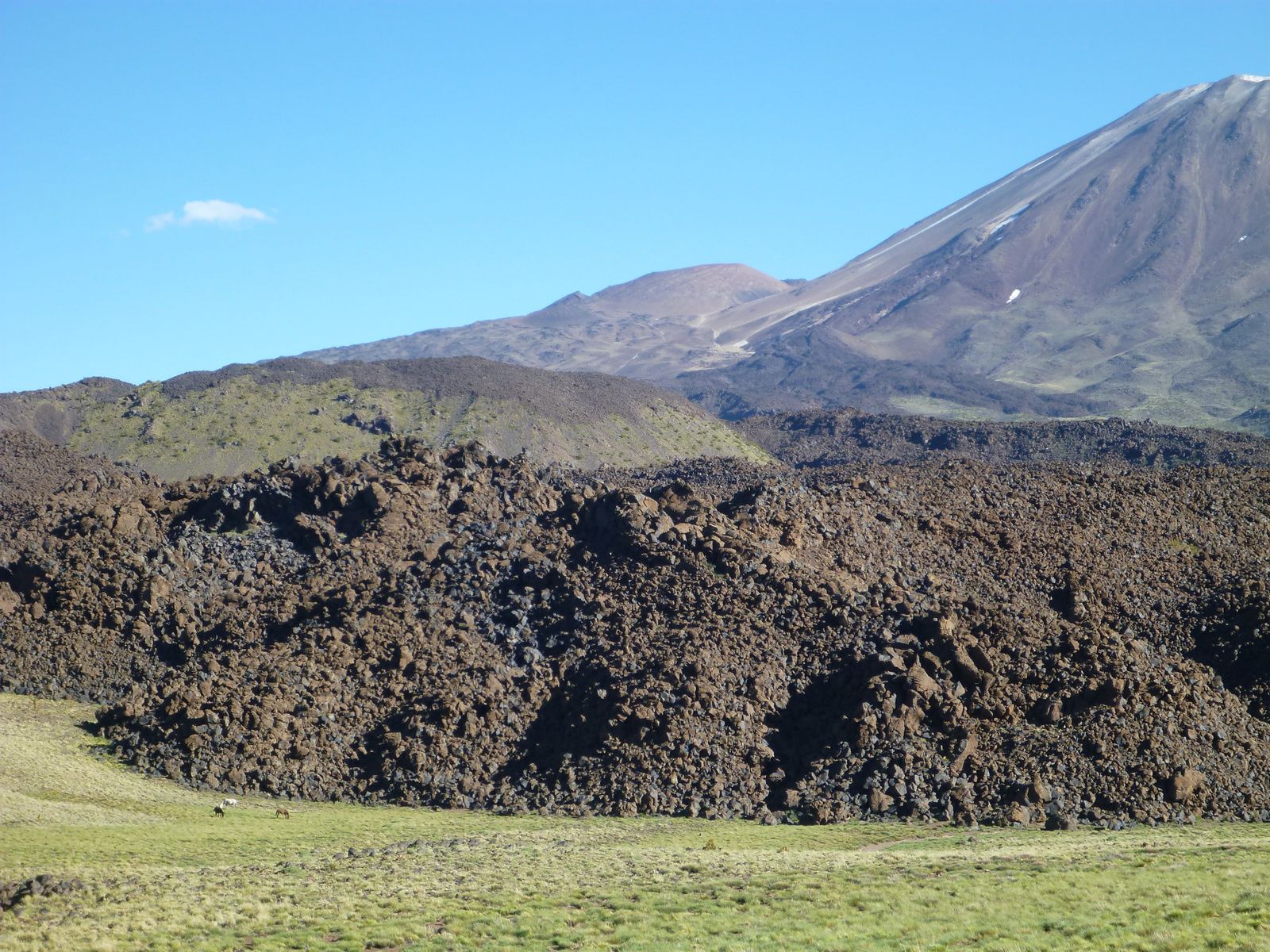 Tromen and recent lava flows / on the left of the photo, three horses for scale - photo-segovia112001.wordpress.com-2014.01.02-lakes-and-volcanoes-Neuquen-and-rio-negro
The GVP reports historical eruptions in 1751 (or 1752) VEI 3 and 1822. Activity was still during 2 Ma.

Tromen is the first documented example of a volcano where magma reaches the surface in a compression context. (For more information, see the writings of Olivier Galland / réf.en sources)

The laguna Tromen home to many species of birds, including the Andean Flamingo and the black-necked swan ( Cygnus melancoryphus).
Sources :
-Global Volcanism Program - Volcanoes Central Chile- Argentina
- Global Volcanism Program - Tromen
- Volcanism in a compressional Andean setting: A structural and geochronological study of Tromen volcano (Neuquén province, Argentina) – by Olivier Galland & al.
- Interactions mécaniques entre la tectonique compressive et le magmatisme, expériences analogiques et exemple naturel - thèse d'Olivier Galland
- Georoute Andine - link
- Georoute Andine - le blog - link