Located in the same volcanic province that Tromen, the Domuyo stratovolcano, also known as "El Techo de la Patagonia" (top of the Patagonia), is the highest point with 4.709 meters.

His name, of Mapuche origin, meaning "Who shakes and sounds" ... probably due to its geothermal activity.

The Domuyo volcanic complex :

At least 14 dacitic lava domes and other eruptive centers have been built within a large caldera 15 km. wide. Other eruptive centers are located outside caldera. The most important of them, the volcano Chanque-Mallin, located on the side ESE is truncated by a caldera 4,000 meters wide, and contains a resurgent dome.

Brousse & Pesce (1982) reported that the volcanic rocks surrounding the Domuyo belong to two different magmatic series, from two separate magmas.

One of them, dated from the late Pliocene / early Pleistocene is calcoalcalin and gave andesites; the other, dated middle Pleistocene, is represented by both alkaline and shoshonitic series, which formed dacitic rocks and / or rhyolitic whose main expression is the Cerro Domo, located on the southern slopes of Domuyo . Age of Cerro Domo, calculated on a rhyolite flow is 0.72 Ma.

More recent volcanic products are dated between 550,000 and 110,000 years (JICA 1983), suggesting an activity Domuyo during the late Pleistocene.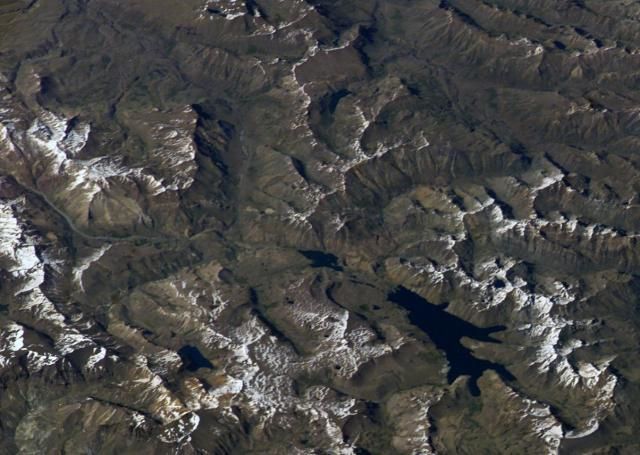 In this photo of the ISS, the volcanic complex Domuyo area is covered with snow, located in the upper left corner. The elongate Laguna Valvarco, bottom right, sits near the western edge of the caldera Valvarco, dated of Pleistocene. (north is at the bottom right) - photo NASA Space Station image ISS008-E-7432, 2003
The hydrothermal system of Domuyo :

Visit requires a local guide and access is by foot or horseback.
The site of Aguas Calientes (hot water) has waterfalls, fountains, pools of boiling water, colonized by thermophilic. The waters have healing properties for arthritis and skin problems.

Las Olletas sector is characterized by small geysers (> 1 m. High), and fumes of extreme high temperature steam.

Los Tachos has geysers emitting at 4 meters in height, and water up to 90 ° C.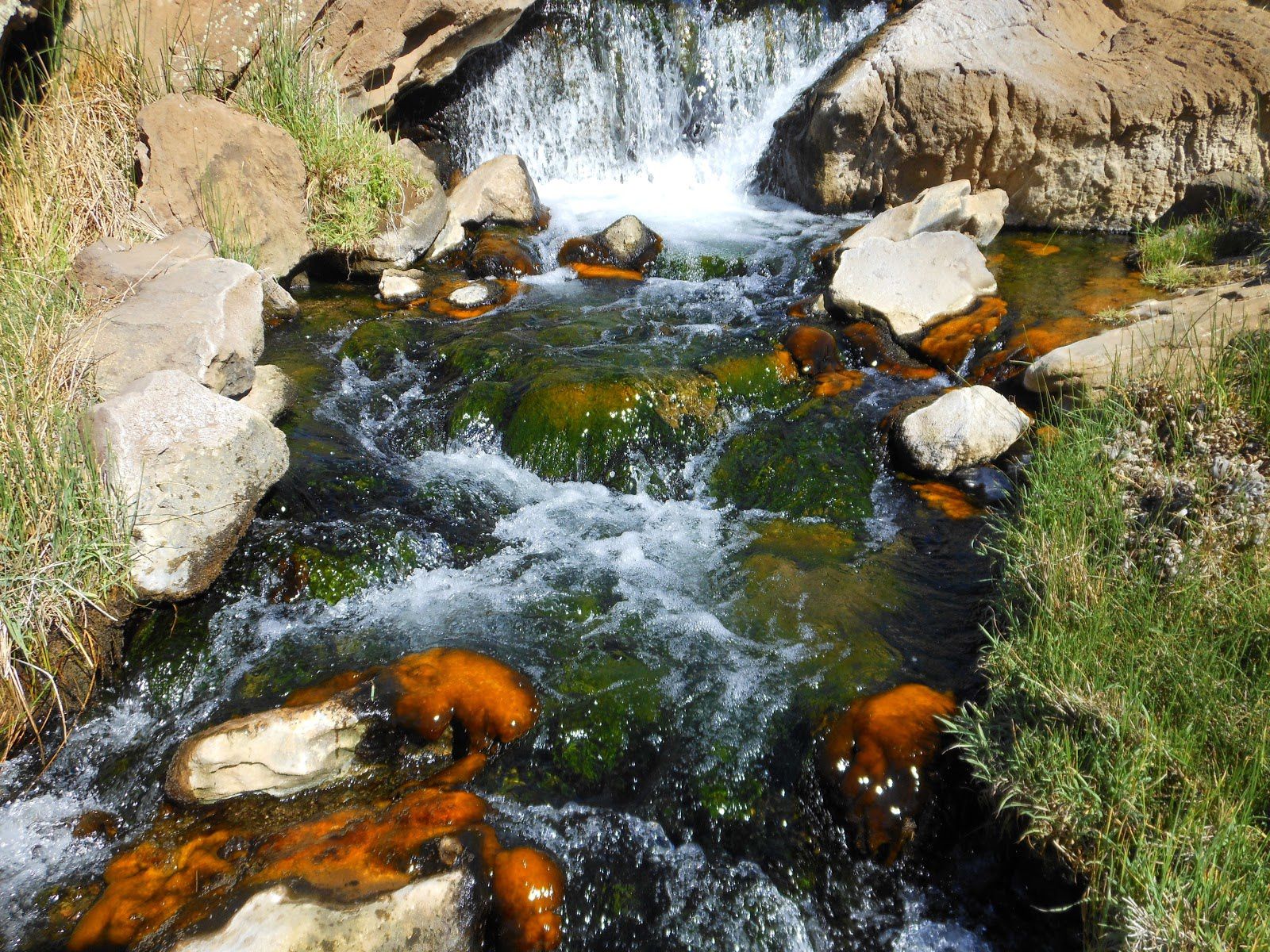 Hydrothermal system Domuyo - warm waters are colored by thermophilic - photo alsurdemicalle.blogspot.com (other beautiful pictures on this blog)
This high temperature hydrothermal system does not match with magmatic intrusions dated to between 720,000 and 110,000 years. A study in 2013 analyzing the potential of the geothermal resource, suggesting the presence of a more recent volcanic activity, undocumented or a possible reactivation of Domuyo volcanic system, following a magmatic intrusion at shallow depth. (Chiodini and al.2013)
Sources :
- Global Volcanism Program - Domuyo
- Journal of Volcanology and Geothermal reseach - The Domuyo volcanic system: An enormous geothermal resource in Argentine Patagonia – by Giovanni Chiodini & al - link
- Termas del Domuyo o Aguas Calientes - link
- Blog Al sur de mi Calle / blogspot - link