The volcanic massif of Auca Mahuida, located in Patagonia in the south of the volcano Tromen, was generated by successive basalt, from many effusive centers during the Plio-Pleistocene. Many basaltic cones evidenced today, the Auca Mahuida volcano, the highest point of the massif with 2,258 meters asl., crowned by a crater 1,600 feet in diameter.

Basalts of Auca Mahuida correspond to alkali basalts from back-arc, youth of about 3 Ma, resulting from the fusion by decompression produced by diving of the subducting plate.
On the left, the map of Auca Mahuida nature reserve and location of the main volcanic sites - right, the location of Auca Mahuida complex - doc.Scielo
The relief between the top and the side unfolds 2,000 meters of cerros (hills) eroded and separated by deep ravines. Between 2,000 and 1,750 meters, the terrain is that of a basalt plateau interspersed with canyons. South of Auca Mahuida the altiplano ends abruptly on cliffs at the bottom of valleys locally called "rincones" (corners).

The drainage waters of the altiplano is radial and diverges from the Auca Mahuida volcano; the waters form by places small lagoons. Streams, mostly temporary, will leave the major permanent water for the population and the local wildlife.

Auca Mahuida name derives from two different origins Aboriginal names: Auca comes from Quechua, meaning a rebel elevation - Mahuida, from the Araucanian, is synonymous with cerro / hill.

Low rainfall have determined shrub steppe vegetation where jarilla dominates. The yellow dominant is changed gradually as altitude grow , turns green before the vegetation disappears. Many endemic plants are listed, with specific adaptations to the environment.



In the hills of Auca Mahuida were discovered dinosaur eggs with so unique characteristics they are a unique phenomenon in the world.
The main finding, discovered in 1993 consists of the remains of Giganotosaurus carolinii, which means "giant southern lizard", hitherto considered as the largest carnivorous dinosaur of all time, above the Tyrannosaurus rex.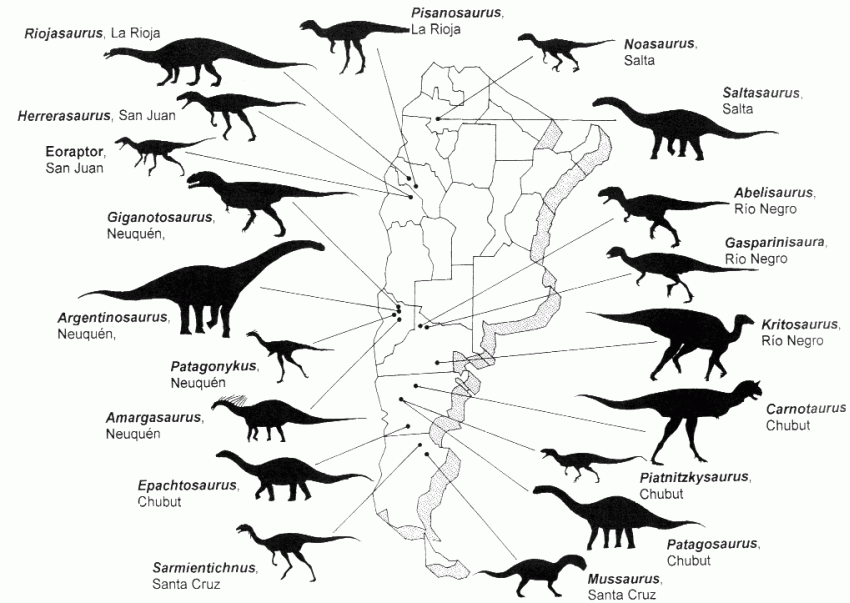 Dinosaur found in Patagonia, whose the Giganotosaurus in the province of Neuquen - doc. Axandes.voila.net