Located in Patagonia, on the border between Argentina and Chile, Batea Mahuida (not to be confused with Auca Mahuida) owes its name to its shape barrel reversed: Batea, meaning barrel, circular to oblong timber, without handles, used to wash in Mapuche - Mahuida designating a mountain.
To the left, the situation of volcanic areas in the Argentine Province of Neuquen - right, the Moquehue and Aluminé lakes, with north, Cerro Batea Mahuida - One click to see the cards.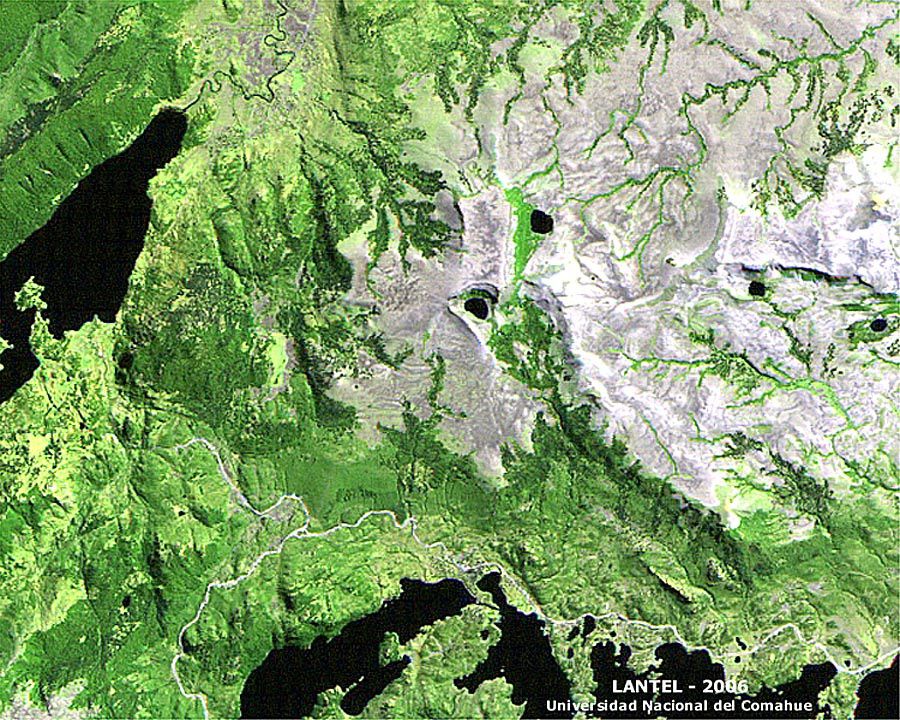 Center, Cerro Batea Mahuida - down, the northern boundaries of lakes Moquehue and Aluminé - Doc. Atlas Neuquen
The crater of the volcano Batea Mahuida, with a diameter of 5,000 meters, is occupied by a crystalline lake, which freezes in winter.

Dating of samples from the Cerro Batea Mahuida north gives a range between 5.2 and 4.9 Ma, a pre-glacial volcanism.

The last eruption of Batea Mahuida produced a lava flow forming a peninsula in the Aluminé lake, on which stood Villa Pehuenia (see map above). Volcanic sand beaches form along the lakes.
The interest of the volcanic site became touristic : the crater and its lake are easily reachable by car. It became a place of excursions, as well as the summit, a wide panorama reveals near Moquehue and Aluminé lakes, and the border surrounding volcanoes: Villarica, Lanin, Callaqui, Lonquimay and Copahue. In winter, its gentle slopes promote learning to ski ... practiced throughout the region, La Angostura being a station set to the forefront by the ash fallout from the last eruption of Copahue.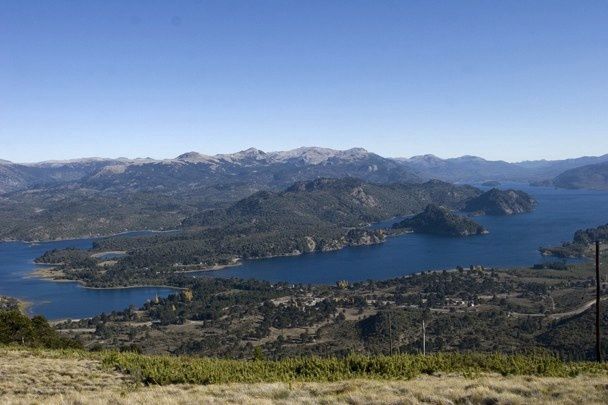 From the summit of the volcano Batea Mahuida, a panorama over the lakes Moquehue and Aluminé - photo Jorge Spo.
Sources :
- Neuquen site
- Atlas Neuquen
- Geomorfología de la región de los lagos Moquehue y Aluminé: consideraciones acerca de las propuestas Calderas Meseta del Arco y Nacimientos del Aluminé (Neuquén) - Emilio F. González Díaz e Inés Di Tommaso
- Taringa – Los Volcanes in Argentina – link