The Copahue volcano is a composite cone (stratovolcano) andesitic elongated, located on the border of Chile and Argentina, the top covered with a large glacier.

The Copahue stood in Trapa-Trapa caldera, 8.5 km by 6.5, which is formed there between 400,000 to 600,000 years on the NW rim of the Cavihue caldera, large of 20 km by 15, dated Pleistocene.

The names Cavihue and Copahue come from Mapuche, meaning respectively "sacred place holiday or meeting", and "instead of sulfur."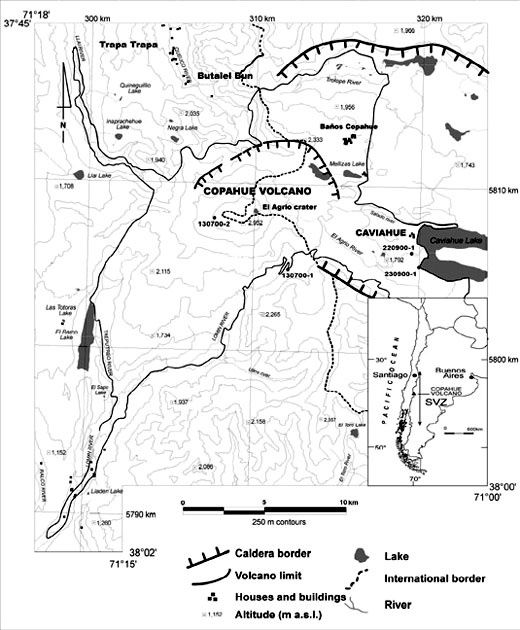 Topographic map of Copahue-Cavihue complex - contours of the calderas, position of the active crater El Agrio
The area covered by the volcano is 57.5 km ², for an estimated 29 km ³ volume. It peaks at about 3,000 m.

Its summit crater the most eastern is part of a long line of 2 km of nine craters, oriented ENE-WSW. It contains a crater lake, acid and having an intense fumarolic activity, named El Agrio, or Del Agrio. El Agrio crater is the source of the historical activity: it is expressed through moderate explosive eruptions until the 18th century. The eruptions of the 20th century were ejected pyroclastic and liquid sulfur.

Hot and acids springs belong to the drainage of the crater lake, and contribute to the acidity of the waters of the Rio Agrio.
The latest eruptive period is from December 2012 to June 2013 (in continuation).

After an increase of seismicity December 22, 2012, the first plumes are observed amount to 1000-1500 m above the crater, from a vent in the crater Del Agrio.
The 23.12, Strombolian activity increasing is responsible for the ejection of incandescent materials up to a height of 450 m, with a plume ash loaded. The eruption will continue, characterized by explosive activity, lava flows,and emission of plumes of steam and ash more or less important until June 2013.

Please note: the alert level of the volcano is still "amarillo / cambios en el comportamiento the actividad volcanica" (SERNAGEOMIN-OVDAS)

Sources :
- Global Volcanism Program - Copahue
- Sernageomin-Ovdas - Copahue
- La Nacion - Comienza en Chile la evacuación en los alrededores del volcán Copahue / mai 2013 - article et photos link
- CCAM - Parque Provincial Copahue Area protegida - link
- Lave.be - Copahue - link