JMA has set an alert for the area around the crater Zaosan this April 13, because of the potential risk of minor eruption.

The Zaosan volcanic group is located in the northeast of the main island Honshu, in the Japanese archipelago.
It includes a series of stratovolcanoes aligned NW-SE, Chuo-Zao groups (Kaosan), Minami-Zao, Nishi-Zao (Ryuzan) and Kita-Zao groups (Ganto-yama and Kamuro-dake).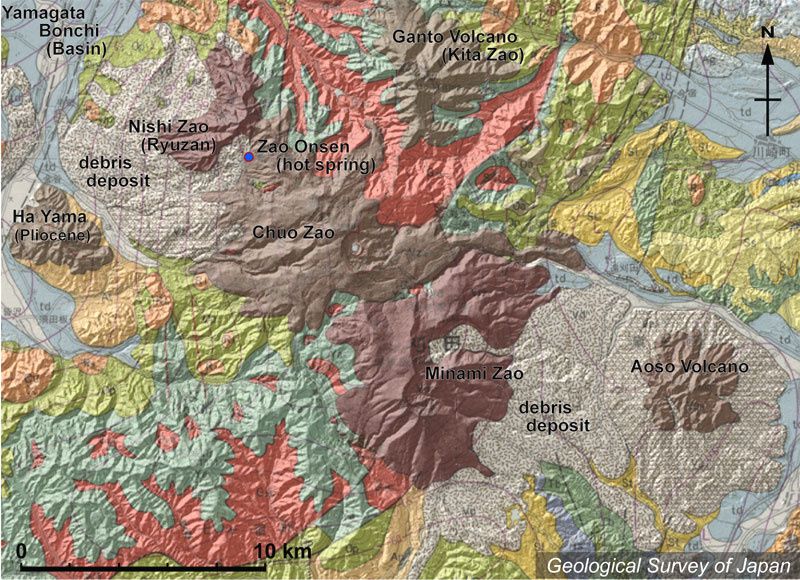 Topography of Zaosan - commonly divided into Minami Zao (south), Chuo Zao (center), Nishi Zao (west) and Kita Zao (north) - Map GSJ / N.Nakajima
The Kaosan itself is a central volcanic complex, wearing several lava domes and a tuff cone, the Goshikidake.
The latter houses the active crater Okama / or Goryu-dake, filled with a green and acidic lake (pH 1.3), formed by an eruption in the 1720s, and source of most of the historical eruptions. Of 360 meters wide and 60 meters deep, it periodically changes of color, muddy deposits on its floor being disturbed by gas emissions ... which earned him the nickname of "five color pond".
Besides the photogenic appearance of Okama Lake, the place is known for its winter "snow monsters".
Siberian winds on Lake flood with water droplets the surrounding trees, Aomori fir, and give them a monster appearance. These monsters are the delight of skiers and snow boarders that slip among them, despite the cold.

A bonus for volcanostamp lovers :