These fossilized footprints were discovered accidentally in 1919 by a geologist, Ruy H. Finch, working at the Hawaii Volcano Observatory, in the desert ash Ka`ū.
The area was nominated to the National Register of Historic Places in 1974 : these structures are not found anywhere else in Hawaii, and are associated with a unique event in human history and Volcano Island.
The geological evidence:
The volcanic ash and sand overlying the lava flows belong to the geological formation called Keanakāko`i Ash, in Hawaiian "The Falling sands", in an area near the Kilauea.
Initially connected to a one-time event dated 1790, it appears now that the formation started from the 1500s, with the last major event in 1790. The Keanakāko`i ashes are more correctly defined as layers of pyroclastic materials deposited between 1500 and 1790.
These ashes come from a time when the summit crater was very very deep, so that the level of its crater floor was below the level of the water table. Water leaked into the crater, where they formed a lake. The eruptions were of phreatomagmatic nature and the fragmentation of magma by the explosion was maximal. A pyroclastic surge swept everything at the over 150 km / h speed. covering the victims, likely died by suffocation in a hurricane of hot gas, and sulfur rather than because of falling ash. Accretionned apilli found are an evidence of stormy conditions during eruptions.

The footprints are commonly called "fossilized", but they are not old enough to be real fossils. Fine dust turned to a tick mud under the rain during the eruption. Solidified under the tropical sun and preserved by an arid desert climate, they are held until today.


Footprints in the Desert of Ka`ū - these traces are fragile and should not be trampled - photo NPS / Volcanoes NP
Artist proof relating the assumption warriors killed by the pyroclastic surge in 1790 - Doc. NPS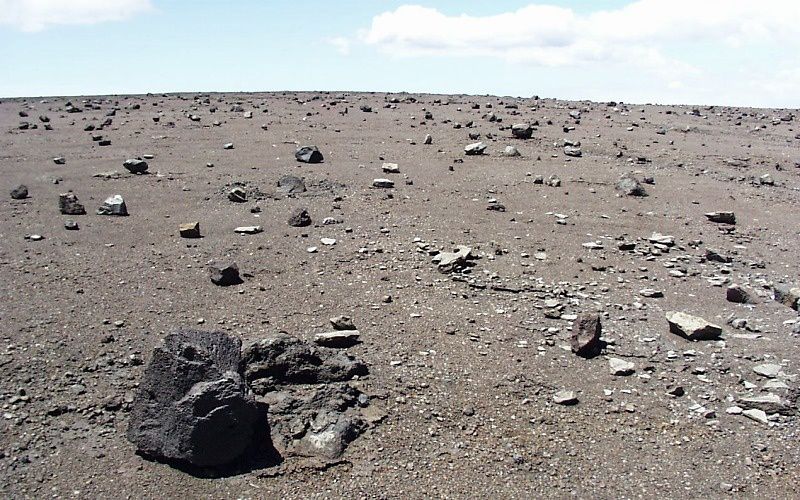 Desert of Ka`ū : Blocks of lava expelled in an explosive series in 1924 covering the ash deposits of Keanakako`i issued between 1500 and 1790- the block on the bottom left is 50 cm. diameter - photo S.R.Brantley / 08.1998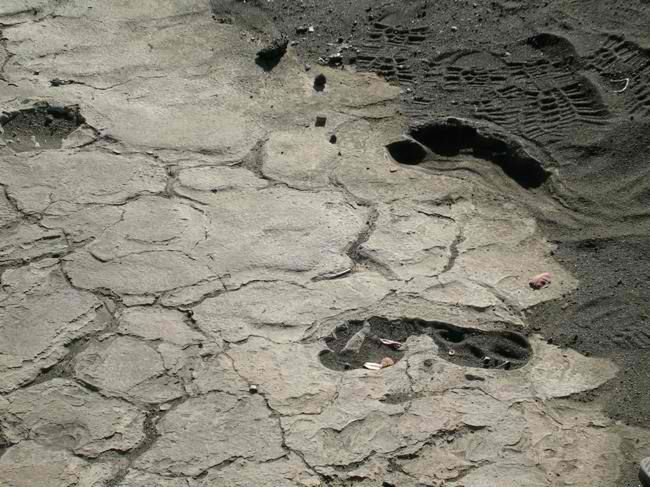 Footprints in the Desert of Ka`ū - these traces are fragile and should not be trampled - photo NPS / Volcanoes NP
Human history :

The footprints in the ashes were attributed initially to a part ofthe warrior in retreat after a battle, by Thomas Jaggar in 1921.
Recent studies attribute the footprints of human activities in the region during the 1500-1790's cycle of volcanic activity. Radiocarbon dating, and the discovery of many homes sites and roads are in line with an human occupation, including the harvest of chips for making tools. In 2008, it has been proven that most footprints belong to women and children, not adults men / warriors.
Sources :
- National Park Service - Hawaii NP - Keonehelelei - The Story of the Footprints Area - link
- Hawai`i Volcanoes National Park / Cultural Resources – Archeology / Keonehelelei - "The Falling Sands" - link1 - link 2
- Pacific islands - link