In an interview with the newspaper La Nacion, the volcanologist Raúl Mora Amador, from the Red Nacional Sismológica (RSN) of the Universidad de Costa Rica, said the dangerousness of Turrialba and the impossibility of predicting an eruption, especially if it is phreatic type ... remember the deadly eruption of Ontake in 2014.

After a major eruption of VEI 3 in 1866, it remained inactive for 130 years. In 1996, a slight increase in temperature fumaroles is detected and inflation ... more obvious factors as from the years 2000. In January 2010, heavy ash eruptions mark the volcano; they are repeated in 2012 and 2013.

In 2014, an eruption, considered the most important of the past 148 years beginning October 29th and lasts until December 8 (GVP).

In a few numbers:
- Falling of ash reach Puriscal, at 63 km. of the Turrialba
- The crater has widened considerably and gives way to the exit of bombs, some with a diameter of five feet, which fall at 700-800 meters from the main crater
- Between June 2010 and June 2014, a cumulative inflation of 28 mm is measured
- The gaseous emissions remain high, with an average daily flow of 1,000 to 3,000 tons
- The temperature of the fumaroles climb from 90 ° C in 2000 to around 800 ° C in 2014.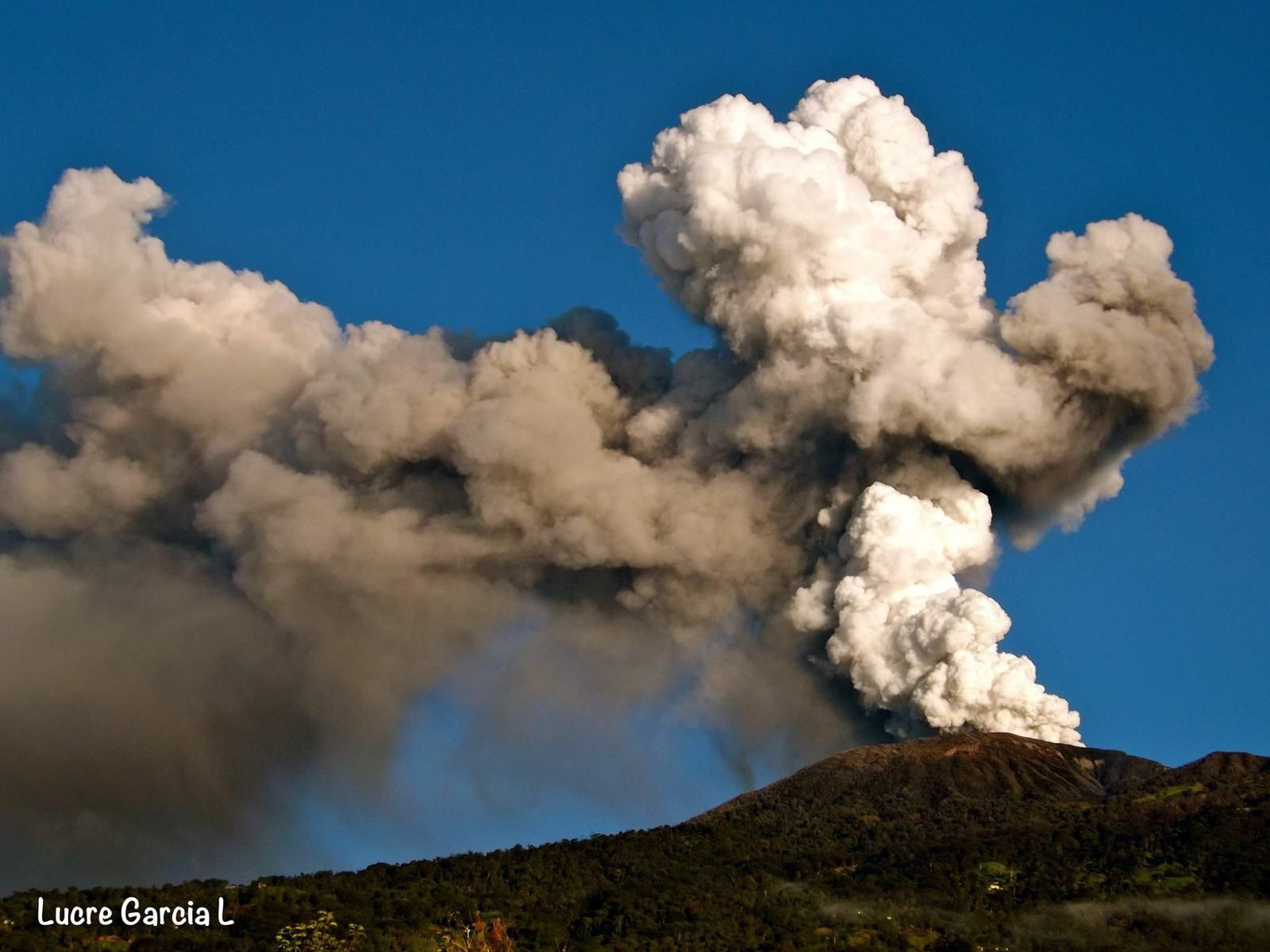 Turrialba - the plume of ash and gas on 1 November 2014 / 5:45 - Photo of Santa Cruz. - Lucre García López - Ovsicori
All these changes in activity requires a permanently monitoring of the volcano.The volcanologist Raúl Mora Amador said "it would be wise to establish a perimeter of risk of 5 km. around the crater." He mentions "the possibility this year of major eruptions that in 2014".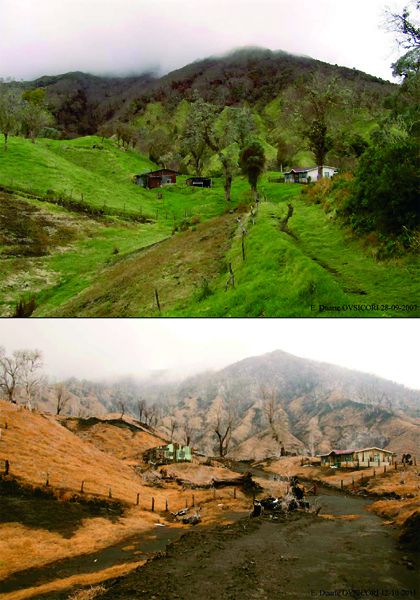 Turrialba - changes in vegetation between 28.09.2007 and 12.10.2011 - Doc. E.Duarte / Ovsicori-UNA / GVP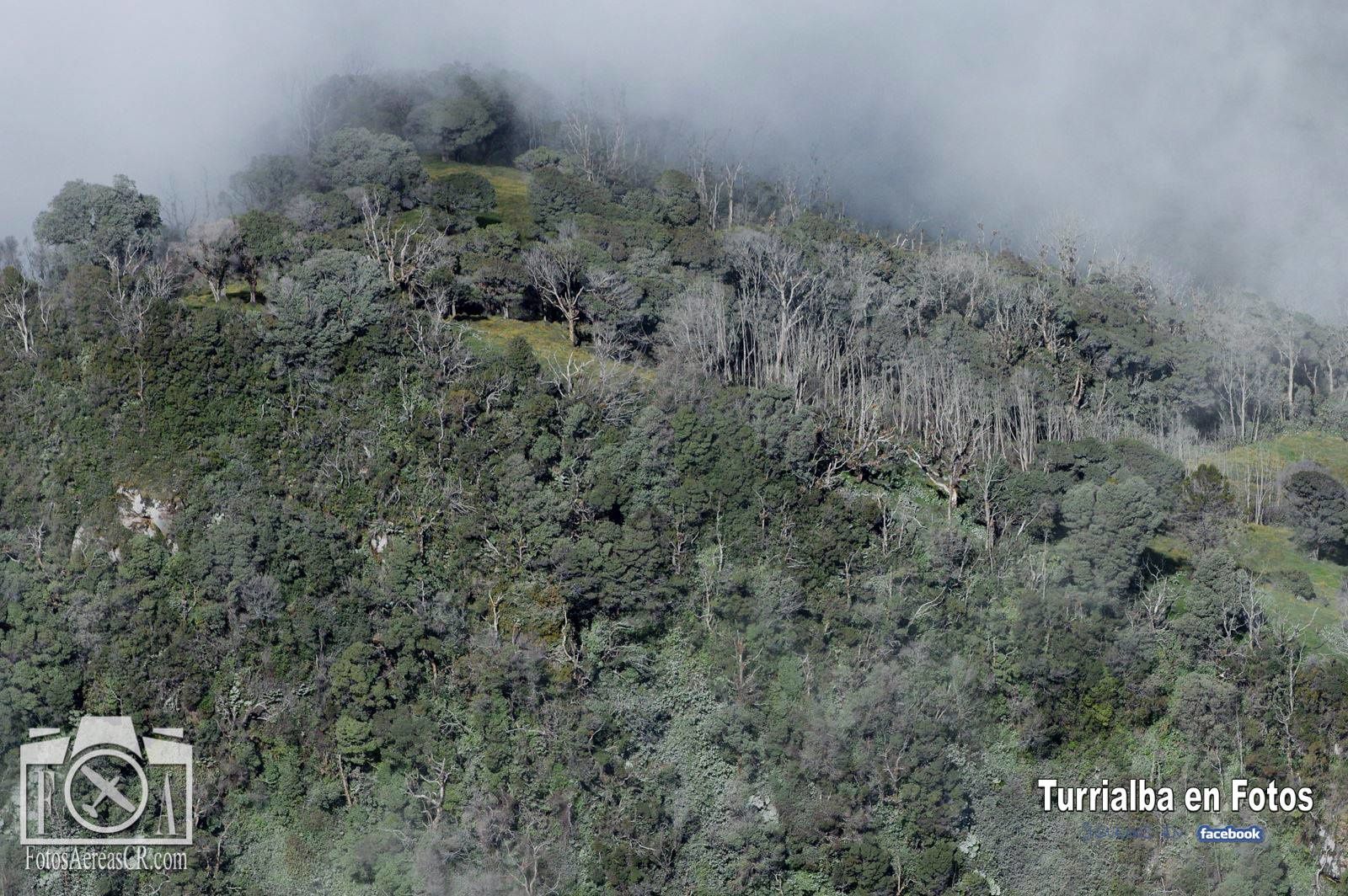 Turrialba - December 2014: the trees are covered with ash and / or burned by gas - photo Andre Quiros / fotos Aereas de Costa Rica
Ashes and persistently emitted gases have impacted the plantations and buildings around ... and operators continue to enter the area to work there every day!

Turrialba - a picture of Tanguy de Saint Cyr demonstrates the desolation of this flank of Turrialba - a click to enlarge - Adventure and Volcanoes travel in December 2014.