Chilean authorities inform the population of the Araucania region, after notification of SERNAGEOMIN / OVDAS, over the alert level change of the Villarica volcano.

On February 6, the observatory reports an increase of seismicity, with a progressively more shallow signal of tremor, suggesting magma movements towards the surface, corresponding to a night glow observed in the night at the top of 02/05/15.

A continuous degassing, with a lower plume 150 meters is also reported.

The alert level was raised to Amarillo, given an increase of seismicity to non-standard values, confirming an unstable volcanic system. The rise of the lava lake was confirmed by a survey on 6 February.

The previous increase of activity date November-December 2014.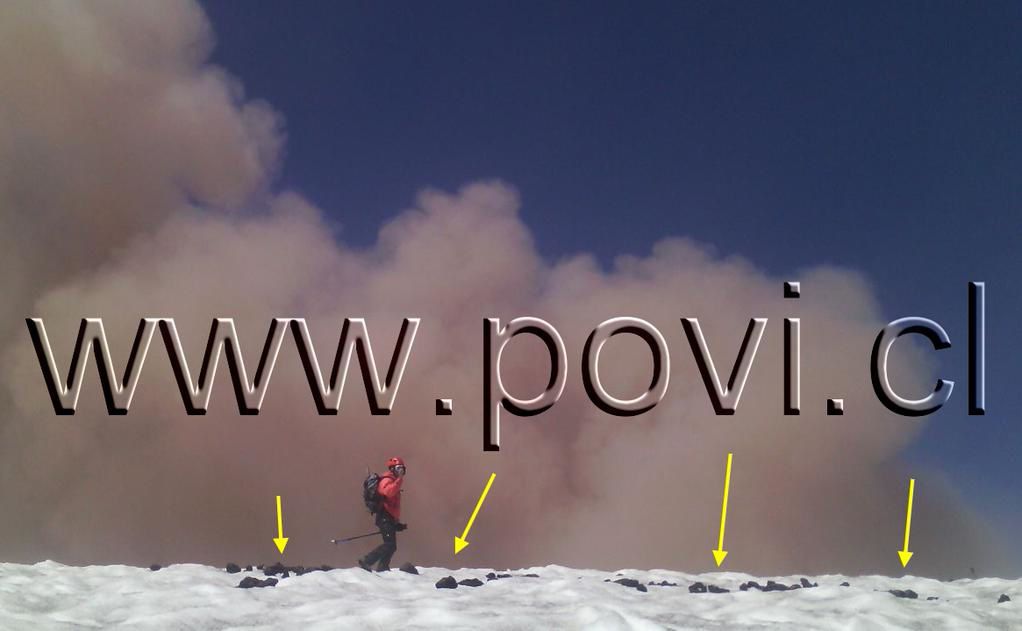 Villarica: Arrows indicate the position of bombs and projections of 3 m. Note a plume ashes loaded and incandescence.- 02/06/2015 - photo Povi / Twitter
In connection with the activity of Villarica:
The seismologist C.Mora-Stock reported in a 2012 article, an increasing of tremor, LP Event and degassing rate at Villarica in the weeks before the earthquake in Maule, interpreted as caused by a magma flow in depth. The post-earthquake volcano activity corresponds to a structural adjustment, without reaching a critical stage and an eruption.

Villarica: summit crater of Evolution: from left to right, in 2000, 2004 and 2007.- a click to enlarge - Doc. GVP & Panoramio
Sources :
- Reporte Especial de Actividad Volcánica (REAV) REGIÓN DE LA ARAUCANÍA Año 2015 febrero 06, 21:00 HL – link
- Noticias Sernageomin - Comité técnico se reúne por situación de volcán Villarrica – link
- POVI - Proyecto de Obsevacion Volcano Villarica - link
- Comparison of seismic activity for Llaima and Villarrica volcanoes prior to and after the Maule 2010 earthquake – by Cindy Mora-Stock & al. – link