A M 4.8 earthquake shook the Yellowstone, this Sunday, March 30 at 6:34 , located near the Norris Geyser Basin . Although stronger than those marking dayly the Yellowstone, it is not a harbinger of volcanic activity .
It is time to revisit the details given a month ago by Jake Lowenstern , the scientist in charge of YVO - link
Intervieuw of J.Lowenstern , scientist -in-charge of YVO / from 2009 , but still relevant / USGS
A brief summary of this intervieuw :

Concerning dates and intervals between the last major eruptions of the Yellowstone , and a possible date of forecast for the next disaster :

Since the last super- eruption , dated of 640,000 years , which produced the Lava Creek Tuff, many smaller eruptions have occurred in and out of the caldera. North of the caldera, was spotted rhyolitic localized eruptions , depending on the viscosity of lava emitted , and some basaltic eruptions, more fluid, out caldera, both north and south of it.
The most recent eruption regards Peachstone plateau: it was little explosive and is dated 70,000 years. So, the Yellowstone remains an active magmatic system !

When the next mega- eruption ?

Building on the date of the next cataclysmic based on the intervals between the last super- eruptions is to play a game of chance. In addition, taking into account the volume of magma emitted from the eruption of Lava Creek, magma recharge needed for a super- eruption leaves a famous period .
What tells us the underlying magma about a possible super- eruption ?

Although we have defined a very large mass of magma underlying Yellowstone, tomography and seismology indicate that it is not completely melt ... there is various magma bodies in fusion of the order of 100 200 km ³, but this volume of liquid magma is insufficient to produce a large eruption.

Various schemes are possible for the next eruption , but Lowenstern provides an upcoming event similar to the last one hundred years.

About the alarming articles on helium emissions :

A recent article, in the Journal Nature, focuses on apparent changes of helium production during the volcanic history of Yellowstone, covering 2 Ma, compared to the previous two billion years of relative stability. This research is not about the current activity and did not affect volcanic hazards .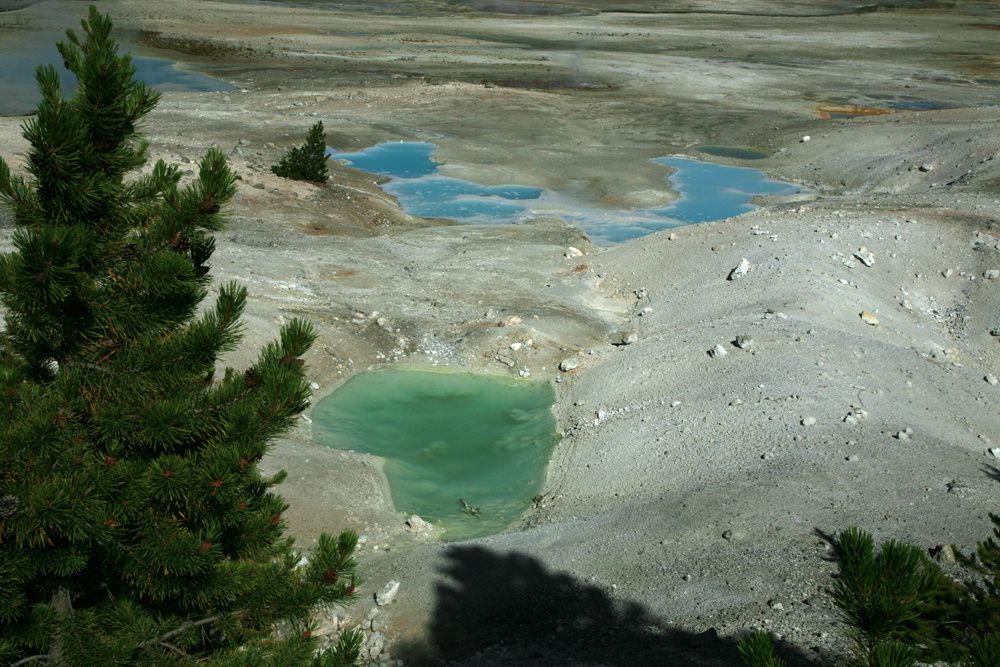 Yellowstone NP - the volcanophiles and other nature lovers can continue to quietly visit these magical landscapes - Partial view of the Norris geyser basin - photo Bernard Duyck .
Sources:
- The super volcano under Yellowstone National Park has given a magnitude 4.8 shake - link
- Yellowstone Eruptions - USGS - interview J.Lowenstern / YVO - you tube
- YVO - A breif FAQ about recent news reports - 28.02.2014 - link
- Los Angeles Times - science news - It's up, up and away for ancient trapped helium at Yellowstone - link